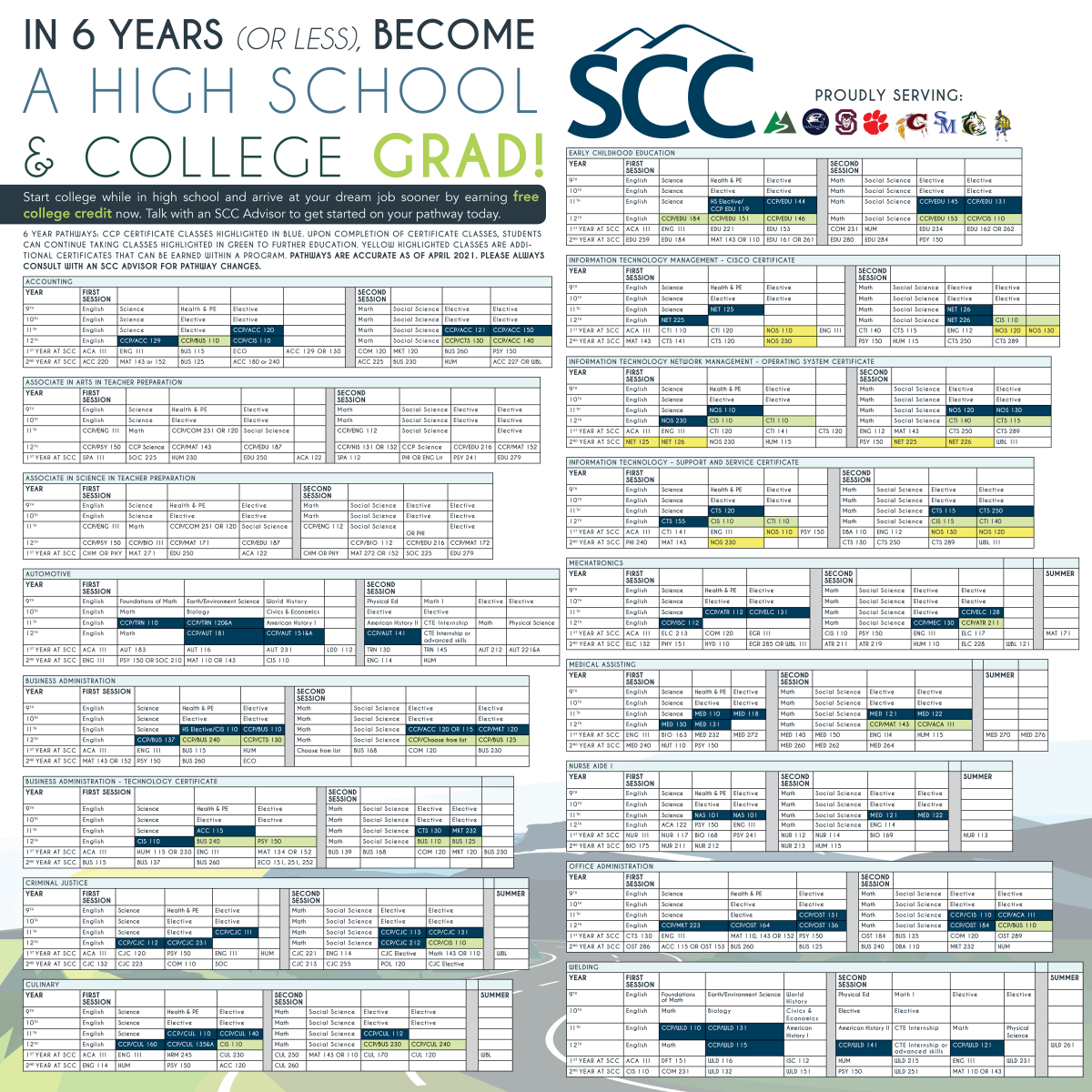 Programs of Study for Career and College Promise Students
The allowed classes for each pathway are listed on the CCP Brochure.
Each pathway, be it College Transfer or Career Technical, aligns with an associate degree at Southwestern. Should a student complete a College Transfer pathway, they would have approximately 9 classes left to complete an Associate's degree. Students who complete Career Technical pathways earn a certificate and have approximately 18 classes left to complete the corresponding Associate's degree. Below is a list of all CCP pathways- click on the link to receive more information about the field, and view the Associate's degree plan.
Early College:
Associate in Arts
Associate in Science
College Transfer Pathways:
Career & College Promise - Associate Degree Nursing (ADN)
Career & College Promise - Associate in Arts Pathway
Career & College Promise - Associate in Science Pathway
Career & College Promise - Teacher Preparation AATP
Career & College Promise - Teacher Preparation ASTP
Career Technical Pathways:
Accounting & Finance Certificate
Advertising & Graphic Design
Option 1 - Certificate
Option 2 - Design Certificate
Option 3 - Illustration Certificate
Air Conditioning, Heating & Refrigeration Technology Certificate
Business Administration Certificate
Business Administration Technology Certificate
*Carpentry Certificate - Only offered at Franklin High School and Swain High School
Early Childhood Education Certificate  
Emergency Medical Science Certificate
Health Information Technology Certificate
Health Informatics Certificate
Human Services Technology Certificate
Information Technology
Option 1 - Software & Web Development Certificate
Option 2 - Network Management – CISCO Certificate
Option 3 - Network Management – Operating System Certificate
Option 4 - Network Management – Support & Services Certificate Courses
Medical Office Administration, Certificate
Office Administration Certificate