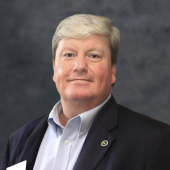 Member, Board of Trustees
A fourth-generation resident of Jackson County, Mark R. Jones was appointed to SCC's Board of Trustees by the Jackson County Board of Education. He was sworn in on July 8, 2014, for a four-year term.

Mr. Jones is also a member of the Jackson County Board of Commissioners, and he serves on the Jackson County Emergency Board and is the Jackson County representative on the Fontana Regional Library Board. He is a former member of the TWSA board, the Jackson County Juvenile Council, the Jackson County Board of Health and the Council of Aging's board.

He's a past chairman of both the Cashiers and Jackson County Chambers of Commerce, and he's served on travel authorities for Cashiers and Jackson County.

A longtime general and morning manager at High Hampton, Mr. Jones' ties to SCC run long and deep. His mother, Ann Hervey Jones, worked at Southwestern in the early 1970s. As a teenager, Mark Jones got his first tax-paying job at SCC - where he used a sling blade to maintain the grounds during the daytime. He mopped floors at the college in the afternoon.

He later taught classes in the hospitality and tourism program for SCC and Jackson County Public Schools in the late 1990s, and he served on the culinary arts advisory board for several years.

His current term on SCC's Board of Trustees expires on June 30, 2022.