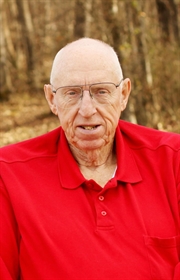 Dr. Charles McConnell
Ask anyone who knew Charlie McConnell well, and they'll tell you he was all heart.
That's why the Sylva Rotary Club endowed a scholarship through the Southwestern Community College Foundation in memory of the former Jackson County superintendent, who devoted much of his post-retirement years to making a college education more accessible for high school students.
Specifically, he helped former SCC president Barry Russell establish the New Century Scholars program that has been providing last-dollar tuition assistance for deserving students from Jackson, Macon and Swain Counties to attend SCC.
"When he retired, he could have been content that he'd done a lot of great things in his career and just taken it easy – but he wasn't a guy to just sit down," said Kenny Nicholson, president of the Sylva Rotary Club and a longtime friend of McConnell's. "He would have been so pleased that we're helping children in his name."
The Sylva Rotary Club raised more than $15,000 through donations and fundraisers to endow the "Charlie McConnell Scholarship," which will be awarded for the first time this fall. McConnell was a past president of the Sylva Rotary Club.
"Charlie's legacy will live on every time a young person earns a college degree through New Century Scholars and this newly endowed scholarship," said Mary Otto Selzer, director of the SCC Foundation.
Ruth McConnell, Charlie's wife of 46 years, said: "The scholarship is quite a compliment to Charlie. It's really special to me, and our children (Greg McConnell, Jeff McConnell and Kristy Bullock) have taken a big interest in it too."
Nicholson, a longtime principal for Jackson County Schools, said he's known McConnell since their high school years when Nicholson attended Sylva-Webster and McConnell was at Cullowhee High.
Their friendship flourished through their time working together in the school system.
"One thing I really enjoyed about working with Charlie was the way his first thought on anything would always be about what he could do to help the kids," said Nicholson, a longtime educator and former principal for Jackson County Schools. "Don't get me wrong; he was also very concerned about the well-being of our teachers and staff. But he also knew that without the kids, none of us (teachers, administrators) would have been there."
Following are criteria necessary to apply for the scholarship given in memory and honor of Charlie McConnell, a lifelong educator, who was instrumental in creating the New Century Scholars program.
Applicants must be seeking an associate degree. 
Preference will be given to students with a demonstrated history of community service. 
Preference will be given to students with demonstrated financial need, not otherwise covered by grants and/or scholarships. 
No GPA or enrollment requirements.