Do you need new glasses? Have you ever had a pair of prescription sunglasses? A pair of computer glasses can relieve the discomfort of computer glare and eliminate the neck pain from using the "sweet spot" in your everyday glasses.
Southwestern Community College Opticianry Dispensing Clinic offers quality spectacle frames and top of the line lenses at a significantly reduced cost. All we need is a current Rx from your eye doctor and our students will design and fit custom eyewear for you!
We Offer
Everyday eyewear

Prescription Sunglasses

Custom readers

Computer glasses

Hobby glasses

Non-prescription sunglasses

We do not provide vision exams and vision Insurance is not accepted. Contact lens orders are not currently available.
The Southwestern Community College Opticianry Clinic is a student training facility. All patient interactions must be supervised and graded by the instructor for grading and legal purposes. For this reason, services including repairs, adjustments, spectacle ordering, and dispensing of glasses are limited to clinic hours of operation.
Click below to request an appointment. Only available time slots on Mondays will appear.
The Opticianry Dispensing Clinic is closed for the Fall 2022 semester. Check back next year for our reopen in January!
Make an Appointment
(Mobile) Make an Appointment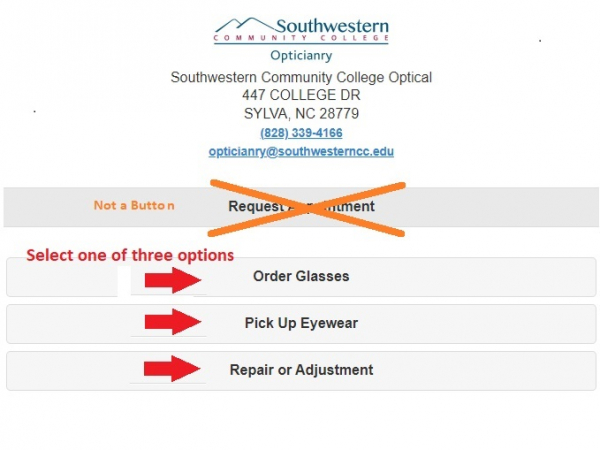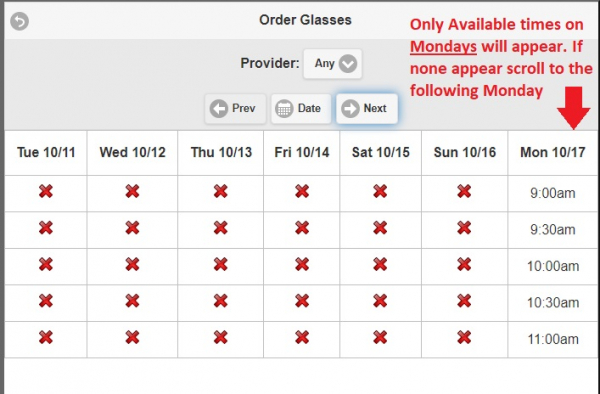 Clinic Hours: Mondays 9:00 a.m. - 12 p.m. by appointment only
Phone: 828-339-4166