Baker donates to college's Veterans Club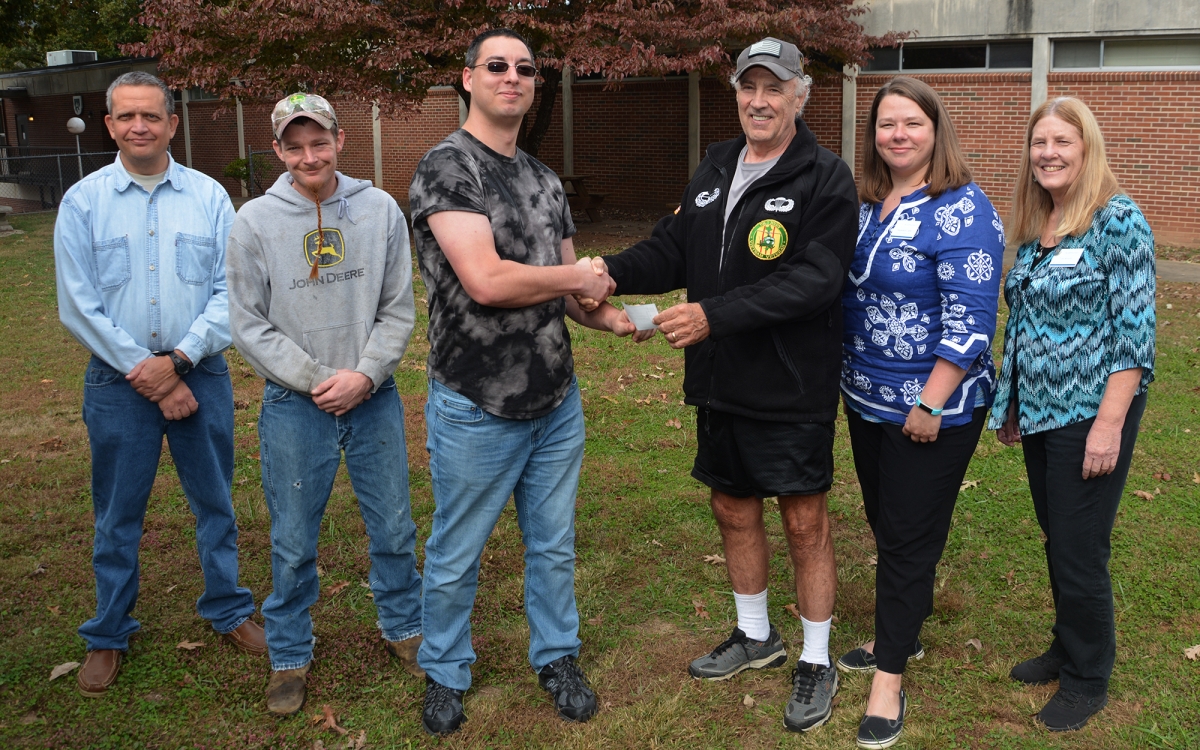 Tom Baker (fourth from left) presents a check to Christopher Morrison (third from left) of the SCC Veterans Club last month on the college's Jackson Campus in Sylva. Also pictured are, from left: David Parton and Andrew Anderson of the SCC Veterans Club and Sayward Cabe and Toni Knott, advisors to the SCC Veterans Club.
Since the terrorist attacks of Sept. 11, 2001, nearly 7,000 members of United States military have lost their lives fighting wars in Iraq and Afghanistan.
In the same span, well over 100,000 veterans and active-duty personnel have lost their lives to suicide.
That last statistic toubled Tom Baker so much that he decided to raise money by cycling 319 continuous miles of the Blue Ridge Parkway in a 32-hour span.
The Sylva resident's ride yielded donations of $1,200, which he split among three groups that support local vets: the SCC Veterans Club, Western Carolina University's Student Veterans Association and the Jackson County Veterans Organization. Jack Sumners, who works at WCU, joined Baker for 150 miles of the ride.
"If people knew just how many veterans have died from suicide, I really believe we'd be doing more to support these men and ladies who've served our country so bravely and courageously," said Baker, a Vietnam Veteran who serves as president of the Jackson County Veterans. "The only reason I rode all those miles was to bring awareness to this issue. We need to do something about it."
The money he gave to SCC's Veterans Club will be used to support vets who attend college.
Baker, who served as keynote speaker at SCC's Veterans Day celebration in 2016, recently published his first book entitled: "The Hawk and the Dove." He'll hold a reading for that historical fiction novel at 6:30 p.m. on Nov. 29 at Jackson County Public Library in Sylva, and he's currently finalizing a memoir of his experiences in Vietnam.
"Mr. Baker has done so much for our country in his life," said Sayward Cabe, an advisor to the SCC Veterans Club and a veteran herself. "Not only did he serve in Vietnam, but he has continued to serve our veterans and communities. We are so grateful for his support of our veterans at SCC. He understands what they're going through, and we are all touched by his gift."
For more information about SCC, the programs it offers and the services it provides to students, check out the info on this website or call 828.339.4000.