2020-08-06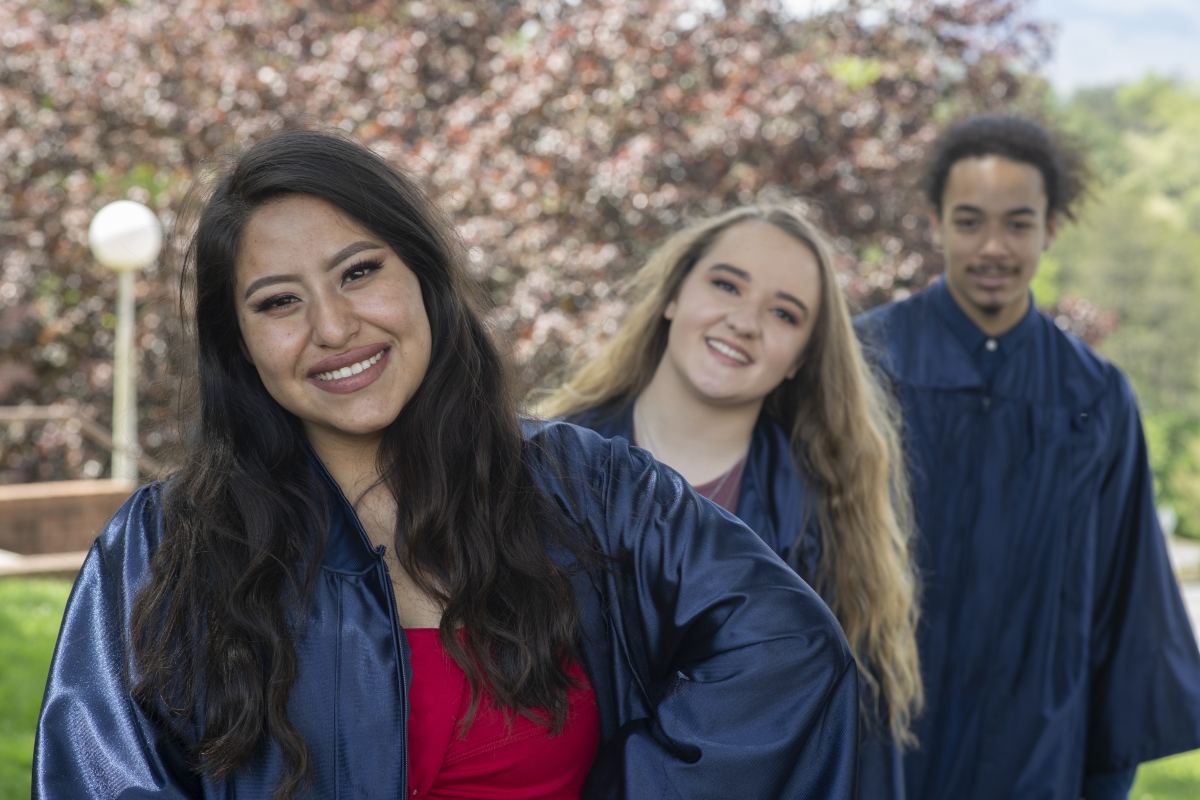 Itzel Velazquez, Kyleena Blankenship and Tyler Wallace pose for graduation photos back in May at Southwestern Community College's Jackson Campus. BestColleges.com recently placed SCC at the top of its national rankings for "The Best Community Colleges & Trade Schools of 2020."
More than 1,100 community colleges currently offer education and training in the United States.
One ranking service considers Southwestern Community College to be the very best.
The N.C. Community College System office notified SCC officials last week that BestColleges.com put Southwestern at No . 1 in its listing of "The Best Community Colleges & Trade Schools of 2020."
Although this is Southwestern's debut atop a nationwide ranking, it marks the fourth time in the last 13 years that SCC has been included among the Top 10 colleges in the U.S. Washington Monthly placed Southwestern at No. 4 (in 2007) and No. 9 (in 2010), and WalletHub had SCC at No. 7 in 2015.
"This ranking validates what I've been saying for years: Southwestern is the best community college in the country," said Dr. Don Tomas, SCC's President. "We are at the top because we have the most caring, giving and supportive faculty and staff members you'll find anywhere. They give freely of their time and their energy because they want to help our students succeed.
"A culture like this doesn't happen overnight," Dr. Tomas added. "Earning this level of recognition is a credit not only to our current employees and leadership but also to our predecessors and all the wonderful men and women who've served on our Board of Trustees over the years."
On its website, BestColleges.com says its methodology is "grounded in statistical data and a few consistently applied guiding principles, including academic quality, affordability, and online competency."
Brian McMahan, Chair of the Jackson County Board of Commissioners, has worked with SCC officials on a number of projects over the years and had high praise for the college when asked about the recent ranking.
"It is no surprise to learn that Southwestern Community has earned the ranking as the number one community college in the United States from among a long list of prestigious community colleges," McMahan said. "SCC has a long history of excellence in education, workforce development, and cultural enrichment in the lives of the people of Western North Carolina and especially Jackson County. We are very proud of their hard work and dedication and congratulate them on this great honor."
Southwestern is the nation's only community college to have a scientific partnership with NASA.
The college's Public Safety Training Center, located in Franklin, was the first in the U.S. to offer Park Ranger Law Enforcement Academy training for the National Park Service.
Southwestern is also the first and only community college in the state to offer an associate degree in Outdoor Leadership, and it launched the first Wilderness Therapy program in the nation from its Swain Center near Bryson City.
In cooperation with Harrah's Cherokee Casino Resort, SCC was the first college in North Carolina to offer table-gaming classes as part of a robust casino-preparation program.
SCC has served Jackson, Macon, Swain Counties and the Qualla Boundary since 1964. Among the college's 40 degree programs are 14 in healthcare fields, and construction is underway on a new Health Sciences Building that will allow Southwestern the potential to add three more programs upon completion next year.
The fall semester starts Aug. 17, and more info is available at www.SouthwesternCC.edu or 828.339.4000.