Brave MEC student honored during Childhood Cancer Awareness Month
Daniel Tomberlin (center) is pictured here with his family, from left: Cindy, Jody and Heather Tomberlin on Sept. 25 in Franklin.
Four times in his young life, Daniel Tomberlin has defeated cancer.
He's now going for victory No. 5. It won't be easy, but the Macon Early College senior has all the support he could ever hope for.
The guest of honor at a fundraising lunch on Sept. 25, Daniel broke into a huge smile when he entered his school building to see his family along with dozens of classmates and instructors wearing gold "Love, Hope, Cure" shirts in support of his fight against childhood cancer.
"It means everything," he said. "I love the people here. Everybody is so nice. For everybody to do that is incredible."
The 17-year-old had asked school officials if they'd hold a fundraiser to support St. Jude Children's Research Hospital during September, which is Childhood Cancer Awareness Month. Organizers promptly went to work honoring his request through the sale of bracelets and candy.
The idea for t-shirts came up later, and the student government then began organizing the lunch.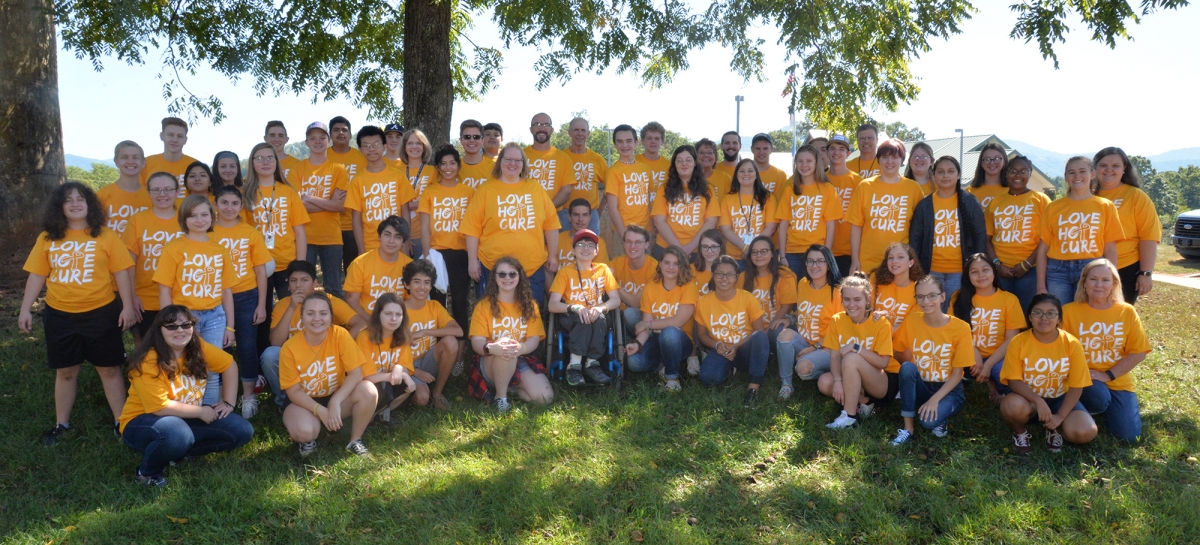 Daniel (center) is surrounded by classmates and the faculty and staff of Macon Early College.
Seeing nearly the entire school filled with gold-clad supporters left Cindy Tomberlin, Daniel's mother, with a smile as wide as her son's.
"Thank you is not even enough for what this school did," said Cindy, who attended the festivities with husband Jody and daughter Heather. "I've never seen a school support someone in this way."
Daniel was originally diagnosed with Neuroblastoma, a rare form of childhood cancer, when he was only four. Since arriving at MEC, he missed half his freshman, sophomore and junior years while battling the disease.
Asked to describe her son's character throughout his cancer fights, Cindy said: "He chooses to live instead of just survive."
The goal of MEC and SCC is to raise $5,000 for St. Jude in Daniel's honor. To support his fundraiser for St. Jude, visit http://fundraising.stjude.org/gogoldfordaniel.