Debate series draws record crowd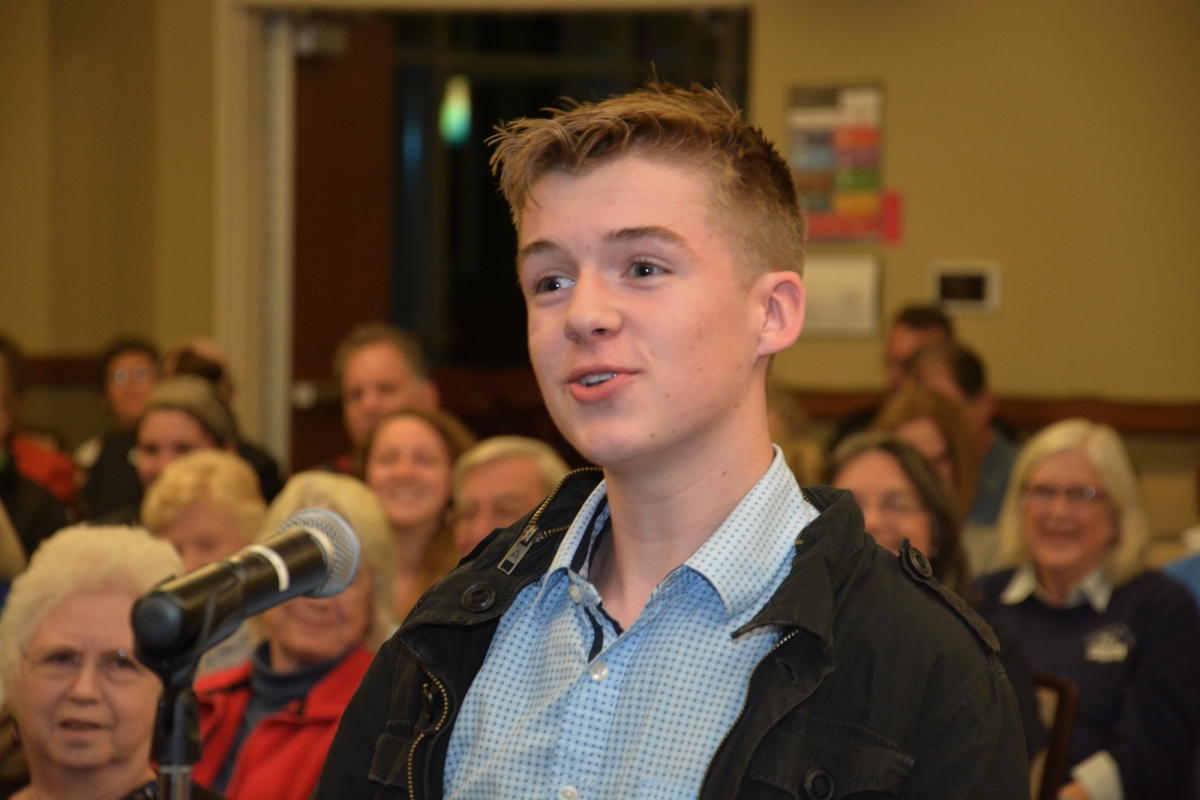 Southwestern Community College student Tristin Goode of Clyde asks questions of N.C. Senate candidates on Oct. 25 in the Burrell Building on the college's Jackson Campus in Sylva.
By: Kaitlyn Carver
SYLVA –
Election season is upon us, and students at Southwestern Community College were excited to be a part of the action.
One of SCC's Social Problems classes hosted a series of three political debates throughout the fall semester. A large number of area residents turned out for the debates, including a record of roughly 150 who attended the final one on Oct. 25.
"These debates are a big part of what the students are doing for this class," said Dr. Bucky Dann, professor of the class. "They were responsible for coming up with various questions on pressing current issues, and candidates were given a chance to respond. It really gives the students an opportunity to be a part of the democratic process in a unique way."
The first debate was on Sept. 17 and featured candidates for Jackson County commissioners on Sept. 27, including: Boyce Deitz, Doug Cody, Charles Elders, Ron Mau, Brian McMahan and Gayle Woody. If you missed the debate or would like to see a replay, here's a link to our video production:
https://livestream.com/southwesterncc/2018debates/videos/180905653
.
The second one, on Oct. 18, offered candidates for the N.C. State Assembly (Rep. Mike Clampitt and Joe Sam Queen) an opportunity to explain where they stand on a variety of issues. Video of that debate is available at: 
https://tinyurl.com/y8zkx8pc
.
The third debate on Oct. 25 featured candidates for the N.C. State Senate: Sen. Jim Davis and Robert Kuppers.
All of the debates were held in the Burrell Conference Center on SCC's Jackson Campus and were completely free and open to the public.
"I was excited to see how candidates answered the questions we came up with," said Tristin Goode, student in the Social Problems class heading up the event. "But, I was also excited to see just how much affiliated political party affected the answers the candidates give. That was pretty interesting."  
Students in SCC's Social Problems class who posed questions to candidates for public office are, front row, from left: Tristin Goode of Clyde, Maria Salgado Rivera of Sylva and Kayla Postell of Andrews. Middle row: Hannah Ledford of Cherokee, Jake Escudero of Sylva, Annie Aikens of Cullowhee and Joshua McEntire of Sylva. Back row: Gabriel Sessoms of Whittier; Dr. Bucky Dann, SCC Sociology Instructor; Nicholas Jacobs of Sylva; Bryson Watson of Cashiers and Jeff Redman of Sylva.