EMS graduate receives Distinguished Alumni honor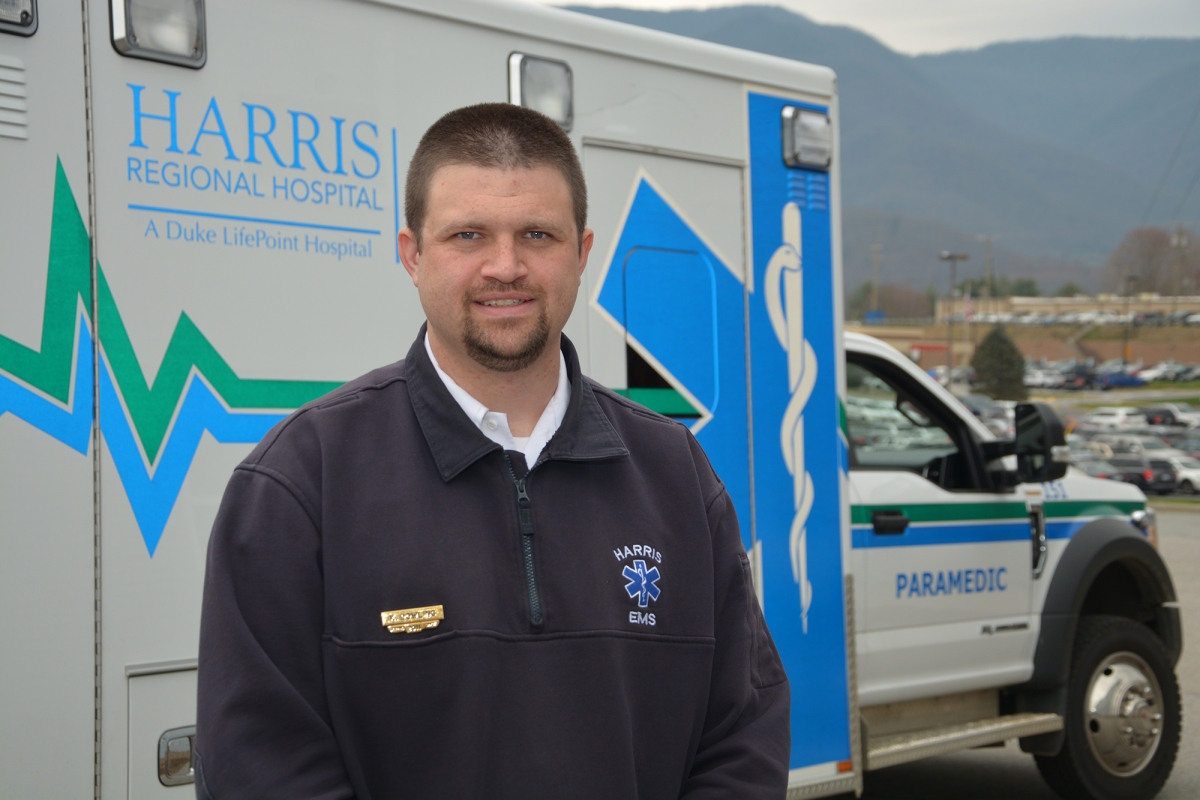 Kyle Dowling, Paramedic Supervisor and Training Officer for Harris EMS, has been named the recipient of Southwestern Community College's inaugural Distinguished Alumni Award.
It's only been six years since Kyle Dowling earned his Emergency Medical Science associate degree from Southwestern Community College, but he's already compiled a lifetime of achievements.
Within two years of graduation, he was elevated to the role of supervisor and training officer for Harris Regional Hospital's EMS Department. He's also earned his bachelor's degree from Western Carolina University as well as National Registry Paramedic , Critical Care Paramedic and Flight Paramedic certifications – along with more than a dozen other credentials.
He's certified to offer emergency care in two other states (Virginia and Georgia) all while earning the respect and esteem of former instructors, colleagues and his own supervisors.
Based on those accomplishments and his continued engagement with SCC, Dowling has received Southwestern's inaugural Distinguished Alumni Award. He'll be honored at SCC's graduation ceremonies on May 18.
"We were extremely impressed by the quality and achievements of all the nominees, particularly considering this is the first year we've offered this award," said Dr. Don Tomas, SCC President. "Our selection committee had several strong candidates from which to choose, but Kyle's nomination ultimately stood out. I could not be more proud of this young man and all the success he's attained so early in his career. We have no doubt he'll continue to impact our communities in positive ways for many years to come."
In addition to his role with Harris EMS, Dowling serves as a Per Diem Flight Paramedic for Air Methods out of Blairsville, Ga., providing pre-hospital advanced life support care to critically ill and injured patients.
Even with all the academic credentials and professional accomplishments, Dowling remains unwaveringly focused on helping the next patient in his care.
"Every day, I have the opportunity to make a difference in someone's life," Dowling said. "The program at SCC wasn't easy, but it had me ready for the job on Day One.
"When I applied for my current position at Harris EMS," Dowling added, "my cover letter contained the following statement: 'A firm education from a stellar, accredited institution has laid the foundation upon which I have built my professional career.' Without SCC, many of my accomplishments would not have occurred."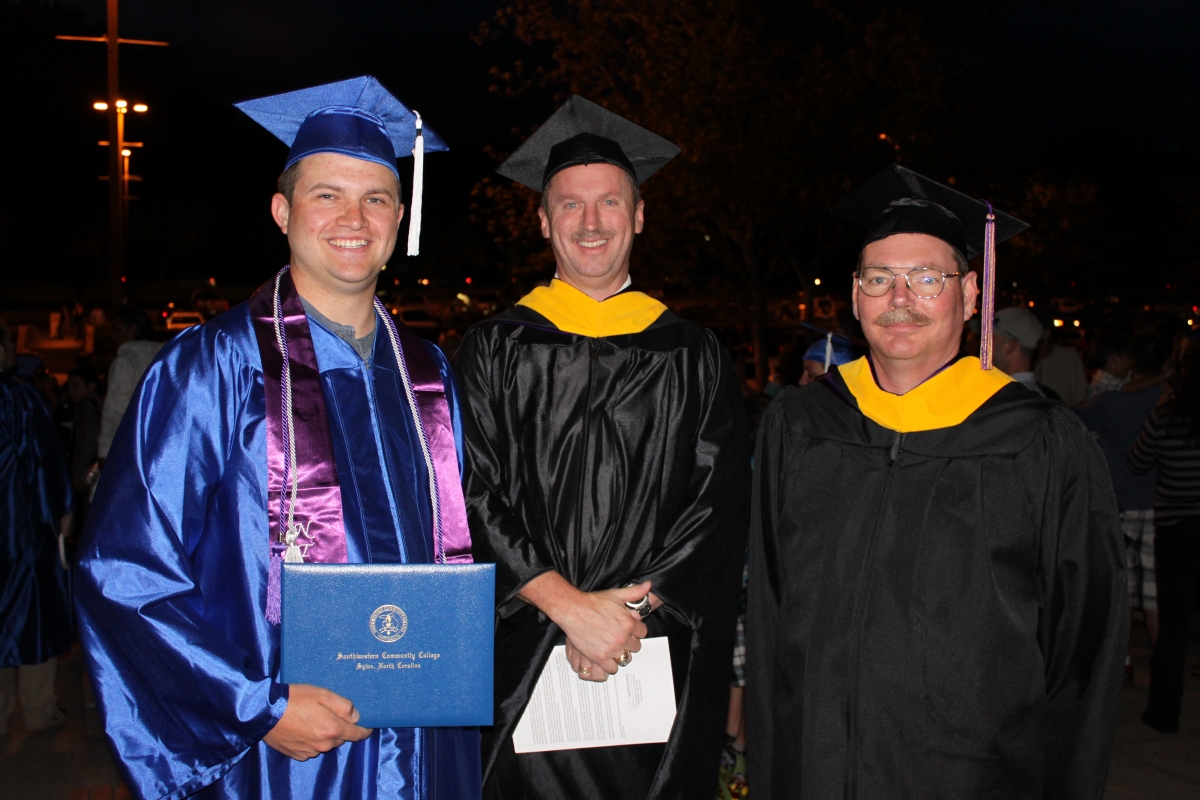 ABOVE: Kyle Dowling (left) is pictured here at SCC's graduation in May 2013 with instructors Eric Hester (center) and Tony Belcher (right). BELOW: In addition to his role at Harris EMS, Kyle Dowling serves as a Per Diem Paramedic for Air Methods in Blairsville, Ga.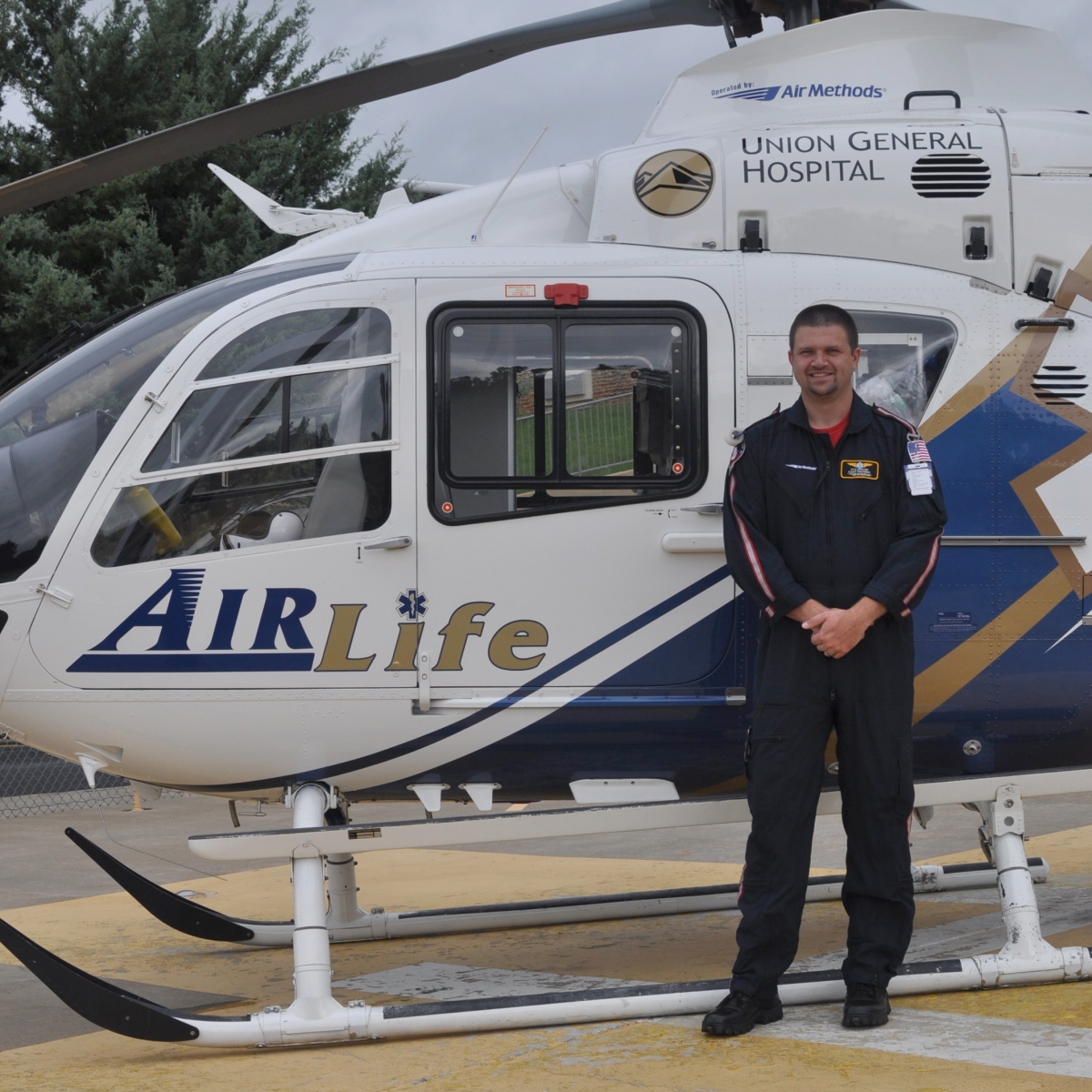 As winner of SCC's Distinguished Alumni award, Dowling will receive an award plaque and also have his name listed along with all future winners on a separate plaque to be displayed prominently on Southwestern's Jackson Campus.
SCC's award was established as part of an effort to engage alumni and to showcase all the ways the college's graduates impact Jackson, Macon, Swain Counties, the Qualla Boundary and the surrounding region. The award was initiated by the SCC Foundation, and the selection committee was chaired by Dr. Mark Ellison, SCC's Director of Enrollment Management.
"I am truly grateful to our Foundation Faculty and Staff Advisory Council, which worked hard under Dr. Ellison's leadership to make this selection," said Brett Woods, Director of the SCC Foundation. "Every day, I am impressed by the way our college touches lives throughout – and beyond – our service area. One of our top priorities is reaching out to outstanding alumni like Kyle and the other nominees so that they know how proud we are of their accomplishments and all the ways they benefit the communities we serve."
Eric Hester, Southwestern's EMS Program Coordinator, nominated Dowling for the honor.
"While a student here, Kyle was one of only seven students in my 18 years to maintain a 4.0 GPA all the way through our program," Hester said. "In our career field, we very often encounter people in some of the most-terrifying moments of their lives. If ever someone in my family needs emergency medical services, Kyle is exactly the type of professional I would want to respond to that call."
In a letter supporting Dowling's nomination for the award at SCC, Harris EMS Manager Matthew Burrell wrote that Dowling "has always been willing to go the extra mile to obtain more knowledge. … I fully believe that the education that he obtained while at Southwestern Community College was instrumental in him becoming the Paramedic and leader that he is today."
Stephen Plemmons, the Senior Director of Emergency Services for Harris Regional and Swain Community Hospitals, also endorsed Dowling's nomination.
"His dedication to his coworkers and the community is apparent in all his interactions with others, and his knowledge of prehospital emergency medicine is extraordinatory," Plemmons wrote.
To learn more about the wide variety of ways you can support SCC students, contact Woods at 828.339.4241 or b_woods[at]southwesterncc[dot]edu.
For more information about Southwestern, call 828.339.4000 or visit your nearest SCC location.