Franklin small business now manufacturing high-demand equipment for healthcare professionals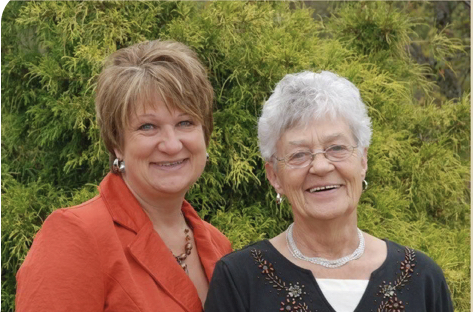 Mother-daughter team Debra Hedden (left) and Karen Kneeland of Luxury Therapeutics in Franklin.
"We will be closing until further notice. God bless us all." This is but one of many messages posted to storefronts across Western North Carolina.
For Luxury Therapeutics in Franklin, that kind of sign simply wasn't an option.
After the local economy took a turn for the worst, co-owner Debra Hedden reached out to Tiffany Henry, Director of the Small Business Center at Southwestern Community College, to brainstorm ideas for transforming the business to meet the needs of the current market.
"We were looking for ways to bring in income and put our employees back to work during this difficult time," said Hedden. "We had received some entrepreneurial help from Tiffany in the past, so we reached out again hoping she could point us in the right direction."
Henry immediately connected them to the Carolina Textile District (CTD), a group of more than 60 manufacturing companies who have transitioned their production to manufacture medical supplies. The group reaches out to local businesses to secure supplies, develop sew kits, source shipping materials and begin producing masks.
Because Luxury Therapeutics specializes in making spa products (wraps, pillows, shoes and more), it was already well-equipped to join the CTD's endeavor to quickly provide for the healthcare industry. CTD provides Hedden with the cut fabric and elastic, and then Luxury Therapeutics sews the masks together and sends them back.
"Debra and her team already have the sewing machines and the know-how; it's just a different pattern they'll be using to manufacture masks and gowns," said Henry. "Having this contract with the CTD is going to provide their business steady income, and it's going to help get much needed supplies in the hands of medical professionals faster."
While Hedden was thankful for the opportunity, she admits it didn't come without any challenges.
"We had the tools we needed, but it was difficult to set up an efficient production to make 1,000 masks at a time," said Hedden. "We started working on them in mid-April and have already shipped our first batch to CTD. We're working on a second round right now. We expect this to go much smoother. It was a bit of a learning curve."
With the CTD recently placing orders for 300,000 masks and 20,000 gowns, members of the effort such as Luxury Therapeutics will be hard at work for the foreseeable future.
"One of the main reasons we started Luxury Therapeutics in 2012 was to help others feel good, live well and reduce body ache stress through the use of our products," said Hedden. "Making personal protective equipment helps other people much in the same way, and we're providing a product that helps keep people safe. We feel good about that."
Hedden says she would recommend the opportunity to get involved with the CTD to any small business in the area that may be equipped with sewing tools.
"This is a great opportunity to put your team back to work with a low overhead cost, since CTD provides all the materials you need. You just need to have the tools," said Hedden. "It may be worth investing in some tools and converting your small business into something that's in high-demand, such as distilleries that have converted equipment into producing hand sanitizer. It's definitely something you want to think about and research, because we're all having to adapt."