Great Smoky Mountains Railroad establishes scholarship fund through SCC Foundation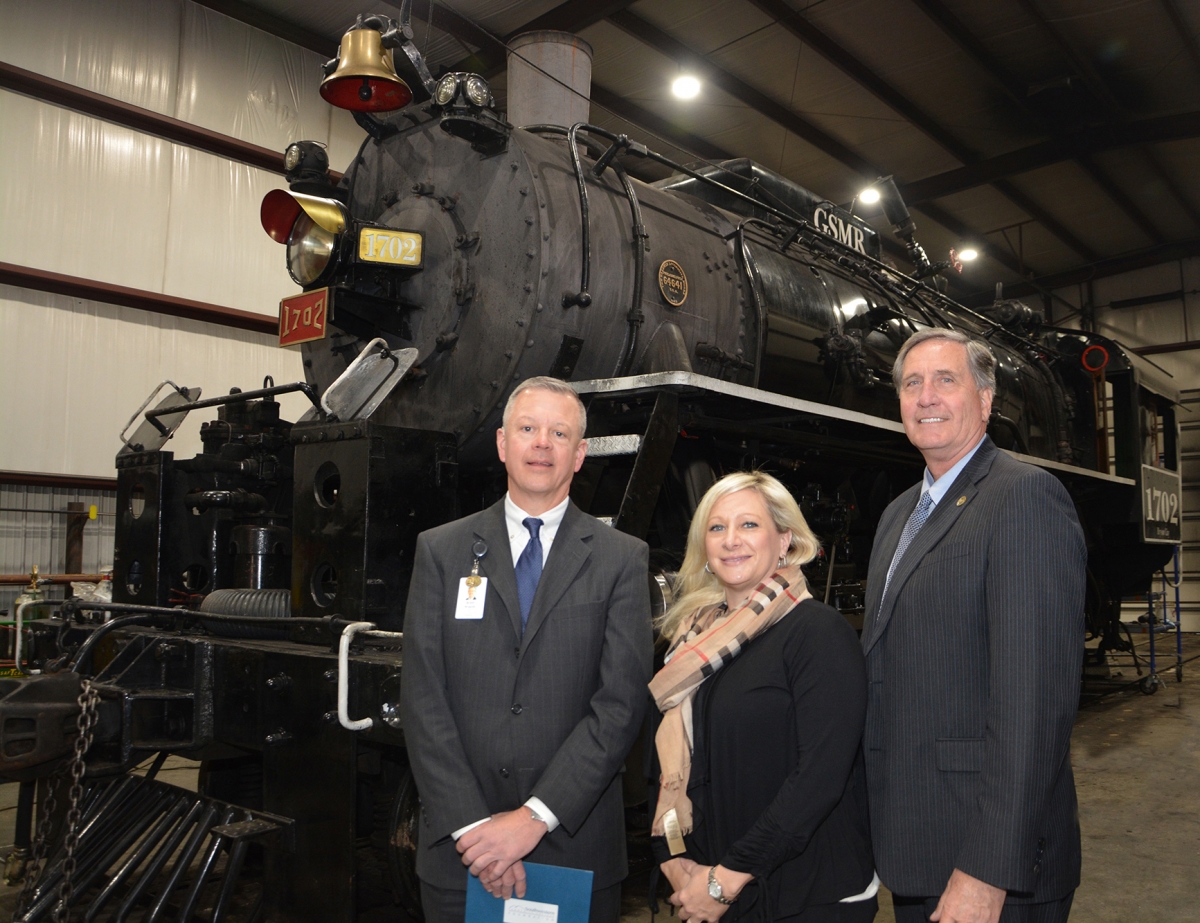 Kim Albritton (center), Vice President and General Manager of the Great Smoky Mountains Railroad, recently established an annual scholarship through the SCC Foundation. She's pictured here with Brett Woods (left), Director of the SCC Foundation, and Dr. Don Tomas, SCC President.
Thanks to one of the region's top tourist attractions, Southwestern Community College students will get an extra hand up toward earning their college degrees.
The Great Smoky Mountains Railroad set up an annual scholarship fund through the SCC Foundation and will award a $1,000 scholarship for each of the next 10 years.
Kim Albritton, Vice President and General Manager of the Great Smoky Mountains Railroad, signed the scholarship agreement with SCC officials on Tuesday, Feb. 26.
"Our top priority at Southwestern Community College is serving our students, and this generous gift from the Great Smoky Mountains Railroad will help bring a quality college education within reach for a number of our students over the next decade," said Dr. Don Tomas, SCC President. "We are extremely grateful to Kim and everyone at the Great Smoky Mountains Railroad for supporting our students."
The first scholarship will be awarded to a student this fall. Preference will be given to students from Swain County with a secondary preference for Jackson County residents.
Other factors that will be considered include financial need as well as a student's program of study with preference given to anyone pursuing a credential in Welding, Culinary Arts or Electronics Engineering Technology.
"The Great Smoky Mountains Railroad's success is largely based on its employees, many of whom are from the local communities that SCC serves," Albritton said. "We are fortunate to be able to give back to a deserving student from Swain or Jackson County with hopes that the certifications and/or degree earned at SCC may come full circle with future employment opportunities in one of the many fields that support the railroad including Welding, HVAC, Electronics Engineering Technology and Culinary Arts."
Established in 1973, the SCC Foundation exists solely to support Southwestern's mission.
"Thanks to gifts like this one, we will be awarding scholarships to more students this fall than we ever have before," said Brett Woods, Director of the SCC Foundation. "This generous donation will have a direct impact on our students' lives."
For more information about the Great Smoky Mountains Railroad Scholarship Fund or the SCC Foundation, contact Woods at 828.339.4241 or b_woods[at]southwesterncc[dot]edu.
ABOUT SOUTHWESTERN COMMUNITY COLLEGE …
For more than 50 years, Southwestern Community College has served Jackson, Macon, Swain Counties, and the Qualla Boundary by offering a wide range of educational options for residents in all stages of life. Ranked among the nation's top 10 community colleges three times in the past dozen years, SCC provides a supportive learning environment and more than 40 degree programs in Health Sciences, Arts and Sciences/College Transfer and Career Technologies. SCC also offers a variety of community resources, including the Small Business Center, Workforce Continuing Education and Career Services.
--- END ---