HCHF grant will fund Health Sciences mannequin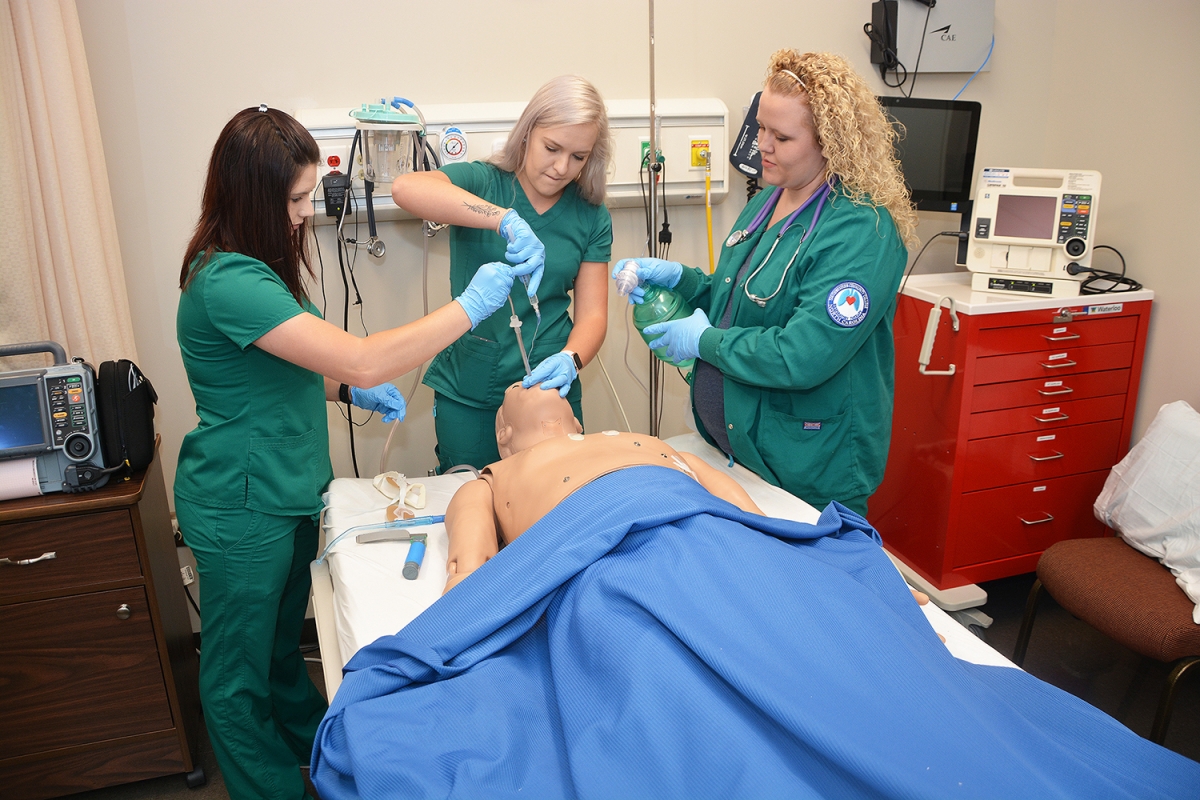 SCC Respiratory Therapy students practice their skills with a mannequin in the college's simulation lab on the Jackson Campus. They are, from left: Megan Dixon, Taylor Day and Carissa Murphy. All are from Bryson City.
Thanks to a recent grant award of $70,000 from the Highlands Cashiers Health Foundation (HCHF), Southwestern Community College will soon purchase a new simulation mannequin to be used by the college's Health Sciences programs.
The mannequin can be programmed to mimic many ailments and diseases. It is also designed to behave just as a human patient would under those circumstances.
"We are grateful to HCHF for awarding us this grant, which allows us to make sure our students are learning on the latest technology available," said Mitch Fischer, Dean of Health Sciences at SCC. "This new state-of-the-art mannequin will allow our students to train in several areas they might never experience during clinical rotations. They will be highly prepared, well-rounded medical practitioners immediately after graduating."
The mannequin is part of SCC's goal to outfit its new $20 million Health Sciences Building, scheduled for completion in 2021. SCC has outgrown its Balsam Center, which was built in 1988 to house four healthcare training programs. The college now has 14 Health Sciences programs, and this building will allow Southwestern to add three more.
"The Highlands Cashiers Health Foundation is pleased to support this initiative as it addresses two of our key focus areas for improving the health and wellbeing of our surrounding communities: education and access to healthcare," said Robin Tindall, HCHF Executive Director.
To learn more about HCHF, visit www.highlandscashiershealthfoundation.org.
For more information on any of SCC's Health Sciences programs, visit www.southwesterncc.edu or contact Mitch Fischer at mfischer[at]southwesterncc[dot]edu or 828.339.4331.