National Park Service Law Enforcement program welcomes new graduates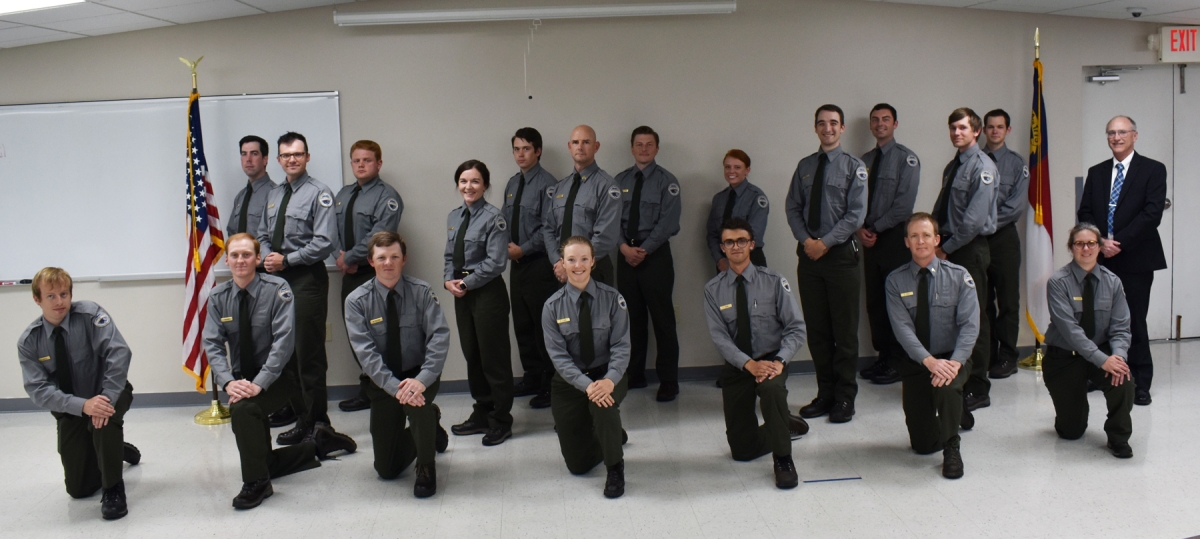 Pictured are, front row, from left: Ashley Cody, Jacob Braswell, William Butler, Michelle Clark, Zachary Crowl, Allan Davis and Sarah Delong. Middle row, from left: Landis Ehler, Marissa Finnerty, Blake Gibson, Brock Howe, Joseph Huisinga and Instructor Don Coleman. Back row, from left: Levi King, Davis Kurtz, Daniel Martin, Joseph Minetree, Taylor Muffley, Russell Nash and Phillip Schulz.
On Wednesday, April 22, Southwestern Community College welcomed 19 brave men and women into the public safety workforce through the National Park Service - Park Ranger Law Enforcement Academy (NPS-PRLEA) program.
The program, offered several times each year through SCC's Public Safety Training Center in Macon County, is designed to prepare park rangers to perform law enforcement duties, including firearm use, making arrests and investigation of federal violations and motor vehicle accidents.
Students are required to complete more than  700 hours of general training, with an optional 40 hours of specialized wildland fire training offered at the end of academy. SCC is one of the few institutions in the United States to offer the NPS-PRLEA.
However, the rigorous training wasn't the only challenge members of class No. 104 faced this spring. When news and uncertainty surrounding Coronavirus broke, many businesses, industries and sectors of government began suspending operations, leaving students like those in the NPS-PRLEA wondering about the fate of their program.
"Dean Curtis Dowdle came out to the firing range to speak to us in late February. Our hearts immediately sunk, as we were all expecting bad news," said Blake Gibson, Sergeant of Class #104. "Instead, he told our class that he would do everything in his power to keep us training, and I'm thankful that he delivered on his promise."
For Dowdle, staying open and continuing operations felt more important than ever.
"Public safety, like healthcare, is a profession that requires those working to come into close contact with those we serve and protect. Public safety jobs are in high-demand, and it's imperative we provide excellent training to key professionals during these times," said Dowdle. "We continue our operations through extreme weather, emergencies and even some holidays, because that's how all public safety agencies are expected to function. The citizens and communities we serve expect that, and we are committed to giving them the quality they deserve."
Gibson says that even before the pandemic truly hit, students and faculty were encouraged to wear masks if they felt ill. Physical spaces were wiped down daily, and group and social interactions proceeded with great caution. Because of those precautions, the NPS-PLREA was able to continue training in a time when qualified public officials are in high-demand.
Gibson, originally from La Porte, Texas, joined the academy while on active duty, having served as an Infantryman for over 20 years.
"As an experienced Infantry veteran, I know the value of good training. Every faculty member and outsourced instructor provided us with effective current strategies and historically-proven techniques. We were taught by a wide variety of law enforcement professionals and first-responders, and I was especially pleased by the amount of real-world training scenarios," said Gibson. "We even managed to 'arrest' people by notionally hand-cuffing them. Social distancing procedures barely had any impact on the teaching value of our scenarios."
Gibson says he chose the program at SCC specifically for the Wildland Fire Certification, which is optionally offered to students at no extra charge. Set to retire in July, Gibson thought working in the NPS would be a great way to use his existing military skill set in a new and interesting way.
"As a soldier, I defended Americans overseas. Americans harming other Americans and deciding on the level of intervention to take is a different skill altogether," said Gibson. "There was a relaxed yet serious tone to the program that helped me transition from the military culture into that of a park ranger. You can still be alert and have a helpful smile on your face. You can wear both a smile and a badge."
Gibson has recently accepted a position with Rocky Mountain National Park in Colorado where he plans on being a park ranger "until they tell him to go home."
"If you want to get paid to hike, this isn't the program for you. If you want to be a member of a team and help protect our nation's greatest resources, look no further than Southwestern Community College and the Public Safety Training Center."
The next NPS-PRLEA will run from Aug. 3 - Dec. 12 at the PSTC in Macon County. The deadline to apply is June 30.