2020-09-18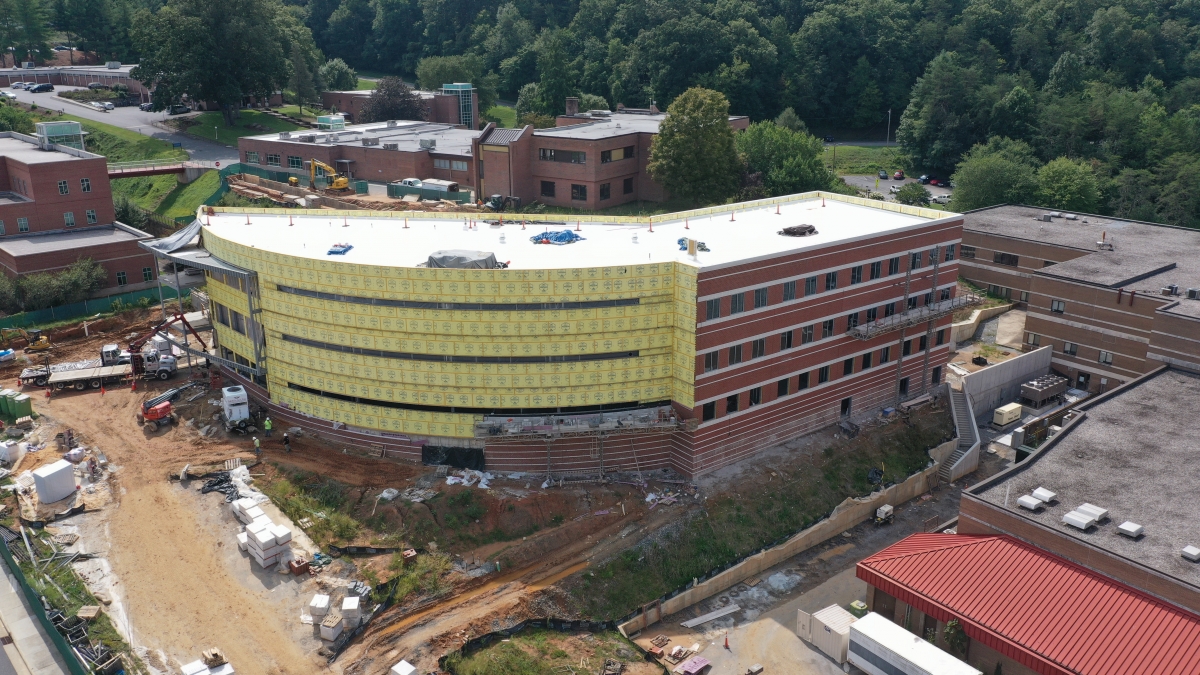 Construction of SCC's new Health Sciences Building as of September 15.
As the COVID-19 pandemic continues to impact Western North Carolina, with positive cases and hospitalizations climbing each day, the region has never had a greater need for skilled healthcare professionals.
At Southwestern Community College, construction crews are hard at work on a new Health Sciences Building to increase its instructional capacity to meet that demand.
On schedule to open next fall, the new Health Sciences Building will allow SCC to expand enrollment and instruction in each of its 14 existing programs and add two new ones – pending state approval.  
While construction for the building started in May 2019, before the COVID-19 health crisis, area healthcare leaders agree the building couldn't have come at a better time.
"SCC is an essential partner for Harris Regional and Swain Community Hospitals. Workforce development is such a critical component of our organization pursuing its mission of making communities healthier, and SCC is an exceptional institution for training our next generation of healthcare workers," said Steve Heatherly, CEO of Harris Regional Hospital and Swain Community Hospital. "The new Health Sciences Building will allow the college to increase enrollment and expand its programs, which is going to directly impact the amount of skilled employees working in our community healthcare facilities at a time where it's needed most."
The innovative 55,411-square-foot building will house 23 classrooms and labs, along with a hand therapy lab, and pediatric occupational therapy and physical therapy gym.  SCC students will have access to cutting-edge medical instructional technology, such as high-fidelity medical simulation mannequins, a high-definition interactive digital anatomy table, and optical lens grinders.
SCC, which serves Jackson, Macon and Swain counties and the Qualla Boundary, saw more than 150 students graduate from a health sciences program during the 2019-20 academic year.
"Everyone at Angel Medical Center is really excited to see the progress of this new building. SCC has been an essential part of providing great healthcare workers for Macon County," said Karen Gorby, CEO of Angel Medical Center. "Access to high-quality learning opportunities and training is what creates high-quality healthcare workers. We're looking forward to seeing this next generation."
Casey Cooper, CEO of Cherokee Indian Hospital, added: "SCC has been a wonderful academic partner to CIHA over the years as we have had numerous graduates employed within our hospital from nursing, radiology, physical therapy, lab and primary care."
As an essential part of the learning process, Southwestern will also provide community clinics through nine of its health sciences programs, including medical laboratory technology, medical sonography, physical therapist assistant, substance abuse counseling, and therapeutic massage.  This will provide students with outstanding experiential learning opportunities to gain practical, hands-on knowledge and proficiency.
SCC President Dr. Don Tomas describes his vision for the building to be not only a skilled training facility for students, but also an opportunity for the community to connect with SCC more than ever.
"Beyond our dedication to our students and commitment to providing trained professionals to our region, SCC has always strived to be a resource for the community, whether it's through our Small Business Center, workforce continuing education programs, our jobs fairs and more," said Tomas. "Once this building is completed, we'll be able to prepare more healthcare professionals than ever to help meet the unprecedented demand."
Funding sources for the project include more than $13 million from Jackson County, $5.4 million from the Connect NC bond and more than $2 million from a U.S. Economic Development Administration grant secured by SCC and Jackson County.
For more information about SCC and the programs it offers, visit www.southwesterncc.edu, call 828.339.4000 or drop by your nearest SCC location.