Outdoor Leadership grad receives SCC's Distinguished Alumni Award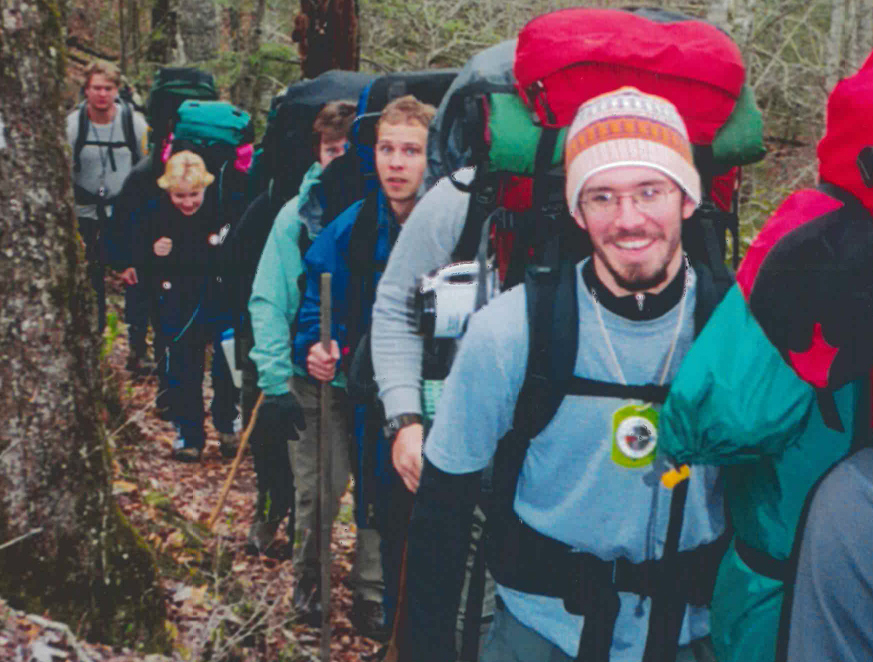 ABOVE: Dustin Wilson, shown here at right in 2003 on an SCC Outdoor Leadership class hike, was recently named the recipient of Southwestern's Distinguished Alumni Award. BELOW: Dustin Wilson is shown here holding a book he was given by Outdoor Leadership Program Coordinator Paul Wolf at the college's 2003 graduation ceremony in Sylva.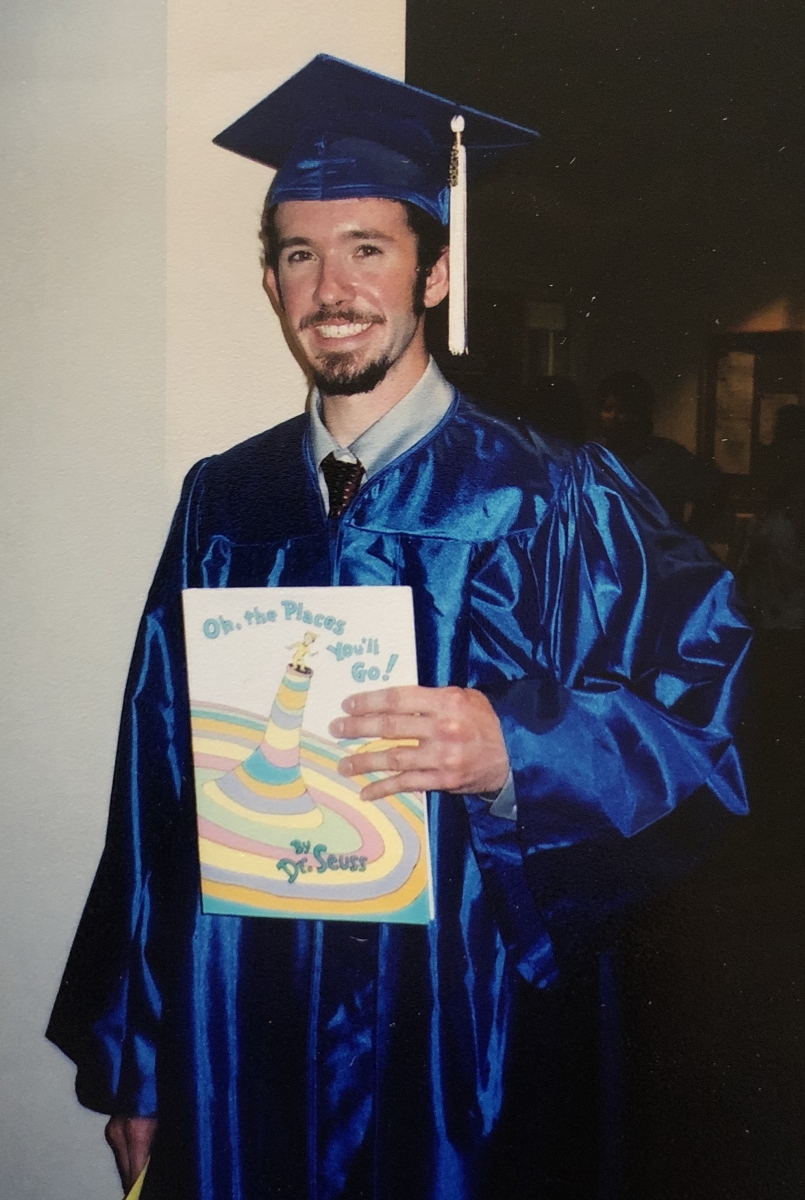 Just over seventeen years ago, Dustin Wilson found himself backpacking through the Western North Carolina wilderness with a group of Southwestern Community College classmates.
The hike on a portion of the Bartram Trail was designed to bring together all lessons from a land-based class. For Wilson, the experience instilled all the confidence he'd need to chart his own career in the world of Outdoor Leadership.
"Just being able to see the skills I had learned in a classroom and directly translating them into a positive experience of being able to overcome obstacles, have fun and earn a living from this – it proved to me that I could do this," Wilson recalled recently. "I saw that other people were believing in me and trusting in me because of the skills I'd developed."
Wilson earned his associate degree from SCC shortly after that 2003 hike, and his educational journey eventually led him to earn a Ph.D. in Parks, Recreation and Tourism Management from Clemson University. He how holds the title of Outdoor Recreation Planner for the Federal Energy Regulatory Commission in Washington, D.C.
He also holds bachelor's and master's degrees in Parks and Recreation Management and Public Management, respectively, from Western Carolina University.
Based on all that he's accomplished and his continued engagement with Southwestern, Wilson has been named the recipient of the college's second annual Distinguished Alumni Award.
"My experience at SCC was the catalyst for my future," Wilson said. "It feels really great to know that an institution I really enjoyed attending, learned a ton from and where I had such great experiences has come back and expressed pride in where I am today and some of my accomplishments along the way."
Established in 2019, the award is given annually to an alumnus/alumna who has attained extraordinary distinction and outstanding performance in his or her career field while demonstrating exceptional community leadership.
Last year's recipient was Kyle Dowling, a 2013 graduate and the supervisor and training officer for Harris Regional Hospital's EMS Department. The selection is annually made by a committee organized by the SCC Foundation and chaired by Dr. Mark Ellison, who also serves as SCC's Director of Enrollment Management.
"Since our college's founding in 1964, thousands of graduates have gone on to make a significant and positive impact on our service area, state and beyond," said Dr. Don Tomas, SCC President. "It is no small task for our selection committee to comb through nominations each year and select just one graduate for this honor, but I am confident they once again got this choice right. Dustin makes us all proud with what he's accomplished and with what he does every day for the Federal Energy Regulatory Commission."
In his current role, Wilson writes environmental assessments and impact statements for non-federal hydro-power licenses. For example, if an organization wants to build a dam, many steps must be taken to safeguard the environment. Wilson works with engineers and other professionals to ensure recreational and cultural resources such as historic properties and gravesites are protected.
"Dustin credits Southwestern Community College's key role in his outstanding academic and career achievements," Dr. Ellison said. "We are proud to recognize such an accomplished SCC alumnus."
Added Paul Wolf, SCC's founding and current Outdoor Leadership Program Coordinator: "Dustin was very goal-driven as a student. He possessed a natural curiosity and was very quick to understand and apply the hard and soft skills needed of an outdoor leader.
"I am extremely proud of the trajectory of Dustin's career path," Wolf added. "Seeing the impact he is making on the recreational use and protection of our country's natural resources and being able to mentor him on his journey makes me grateful to have been part of his formative years here at SCC."
A native of Madison, Ala., Wilson regularly took vacation trips with his family to the North Carolina mountains. He fell in love with the area and moved here at the age of 21 after learning of SCC's Outdoor Leadership program through Internet research.
Wilson credits Wolf, his primary instructor, with providing the example and direction he needed at that point in his life.
"Paul was extremely energetic; you could tell he had a huge passion for what he did," Wilson said. "He helped plant a seed for me to not just participate and pass but to do as well as I could. That was extraordinary. I had been to a community college and university in Alabama, but I never came across anyone like him. Even to this day, I think of the ways he helped to guide me, and I am so appreciative."
Nominations are accepted annually for SCC's Distinguished Alumni Award. For more info, visit www.SouthwesternCC.edu/award.
For more information about Southwestern and the programs it offers, call 828.339.4000, visit www.SouthwesternCC.edu or drop by your nearest SCC location.