Over 4 years, annual gala raises more than $250,000
ABOVE: Dr. Don Tomas (center), Southwestern Community College President, joins with a group dancing to the bluegrass tunes of Frogtown during the SCC Foundation's Bluegrass, Blue Jeans & Bling gala last month at Harrah's Cherokee Casino Resort. BELOW: Recent graduate Yesenia Navarro tells the gala crowd how the scholarship she receive through the SCC Foundation helped her as she pursued her degree at Southwestern.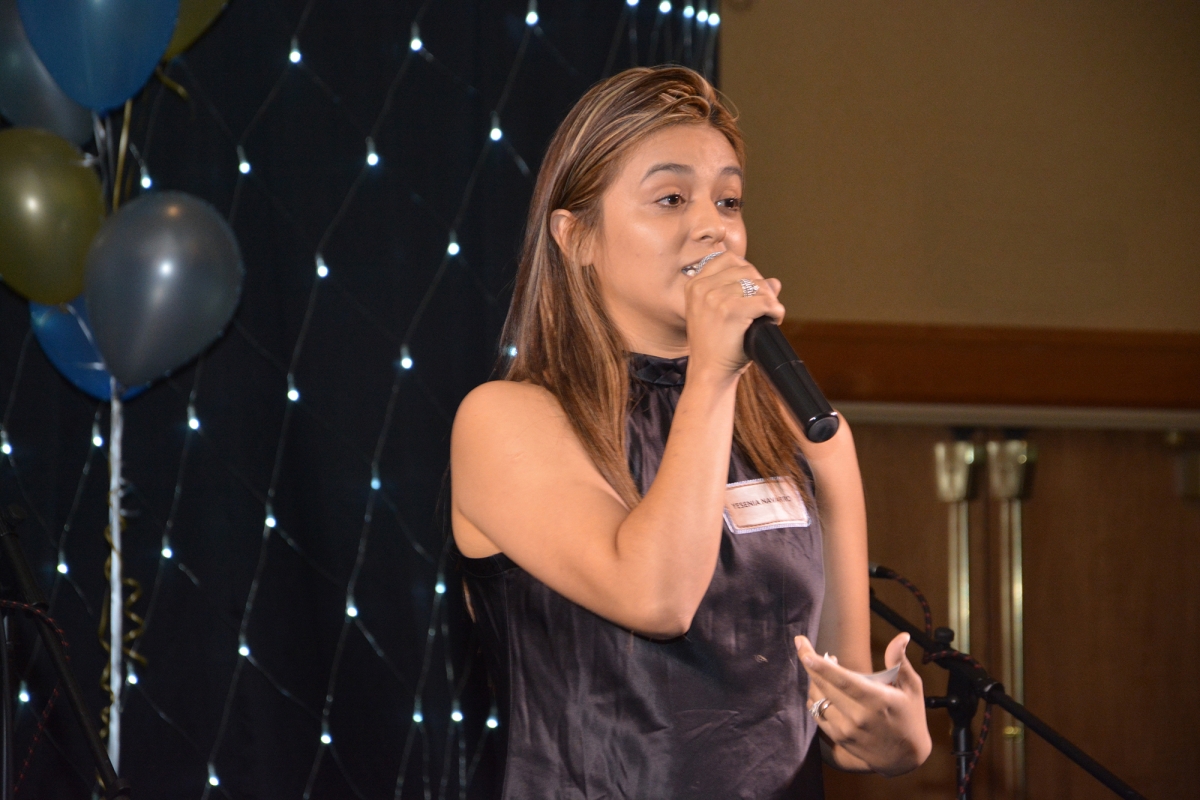 Since moving its annual gala to Harrah's Cherokee Casino Resort in 2015, the Southwestern Community College Foundation has raised more than a quarter-of-a-million dollars.
As has been the case annually since its inception, the current year's gala yielded more money than the last. "Bluegrass, Blue Jeans & Bling," which was held on Aug. 25, netted more than $72,000 when factoring in table sponsorships, silent auction sales, wine pull proceeds and individual tickets.
All money raised goes toward supporting SCC students through scholarships.
"None of our success with the gala would be possible without the generosity and support from our good friends at Harrah's," said Dr. Don Tomas, SCC President. "We are incredibly blessed to live in a region filled with kind and generous people who understand how Southwestern benefits our communities, and they're always willing to step up with amazing levels of financial support. We cannot thank all our sponsors and donors enough.
"We also could not have done this without the help of all our volunteers," Dr. Tomas added. "Our co-chairs, Wendy LeMay and Lambert Wilson, once again did an amazing job of coordinating this gala. It takes a tremendous amount of work to make these events successful, and I deeply appreciate all the hard work that's done behind the scenes."
At this year's gala, attendees heard from scholarship recipients MaShon Gaddis and Yesenia Navarro. Gaddis is a current student while Navarro graduated in May. Each spoke briefly about how significant an impact their scholarships have made on their lives.
Thanks in part to the recent successful galas, the Foundation is experiencing unprecedented growth – and is able to help more students each year. However, there is still much work to do.
The Foundation's total assets have more than doubled since Dr. Tomas became president in 2011 and currently stand at $5,555,028.11.
During the 2017 gala, SCC celebrated the completion of its first million-dollar endowment. And as the Foundation continues to gather fundraising momentum, the college is able to support more students than ever.
"Harrah's Cherokee Casino Resort is happy to partner with SCC, working together to be leaders in the efforts to raise funds for education," said Brooks Robinson, Regional Senior Vice President and General Manager of Harrah's Cherokee Properties. "Many employees and their family members have participated in the programs offered at SCC. We are proud of the work they do in making our communities stronger, and we look forward to continuing our partnership."
Total amount of scholarships awarded in 2013-14 was $51,355. This year's scholarship value was $132,000 – and that's in addition to the more than $36,000 that was awarded to New Century Scholars. The Foundation also was able to provide $4,500 to students in need through the Student Emergency Fund.
Five years ago, the SCC Foundation was only able to help one out of every five students (42 out of 225) who applied for financial assistance. For the current academic year, SCC was able to assist one out of every three (93 out of 268).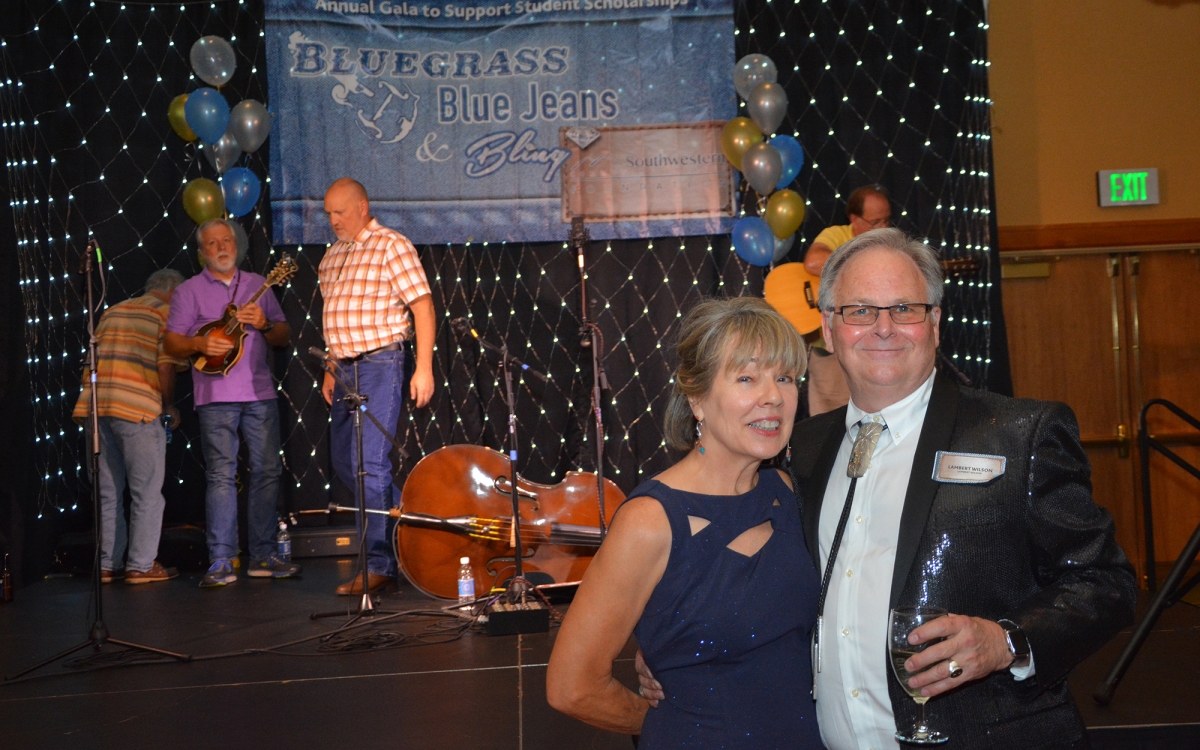 Wendy LeMay and Lambert Wilson served as co-chairs for this year's Bluegrass, Blue Jeans & Bling gala on Saturday, Aug. 25, at Harrah's Cherokee Casino Resort.
But that still means two of every three qualified applicants aren't receiving assistance.
"We've come a long way, and that has everything to do with the generous spirit of our donors throughout Jackson, Macon, Swain Counties and the Qualla Boundary," said Brett Woods, Director of the SCC Foundation. "We aim to continue building on this momentum until we're able to provide financial assistance to every student who can use a hand up so that they can change their lives through the academic programs at Southwestern."
For more information about the SCC Foundation as well as the academic programs offered through Southwestern, visit www.southwesterncc.edu, call 828.339.4000 or drop by your nearest SCC location.