Paralegal Technology program receives top national ranking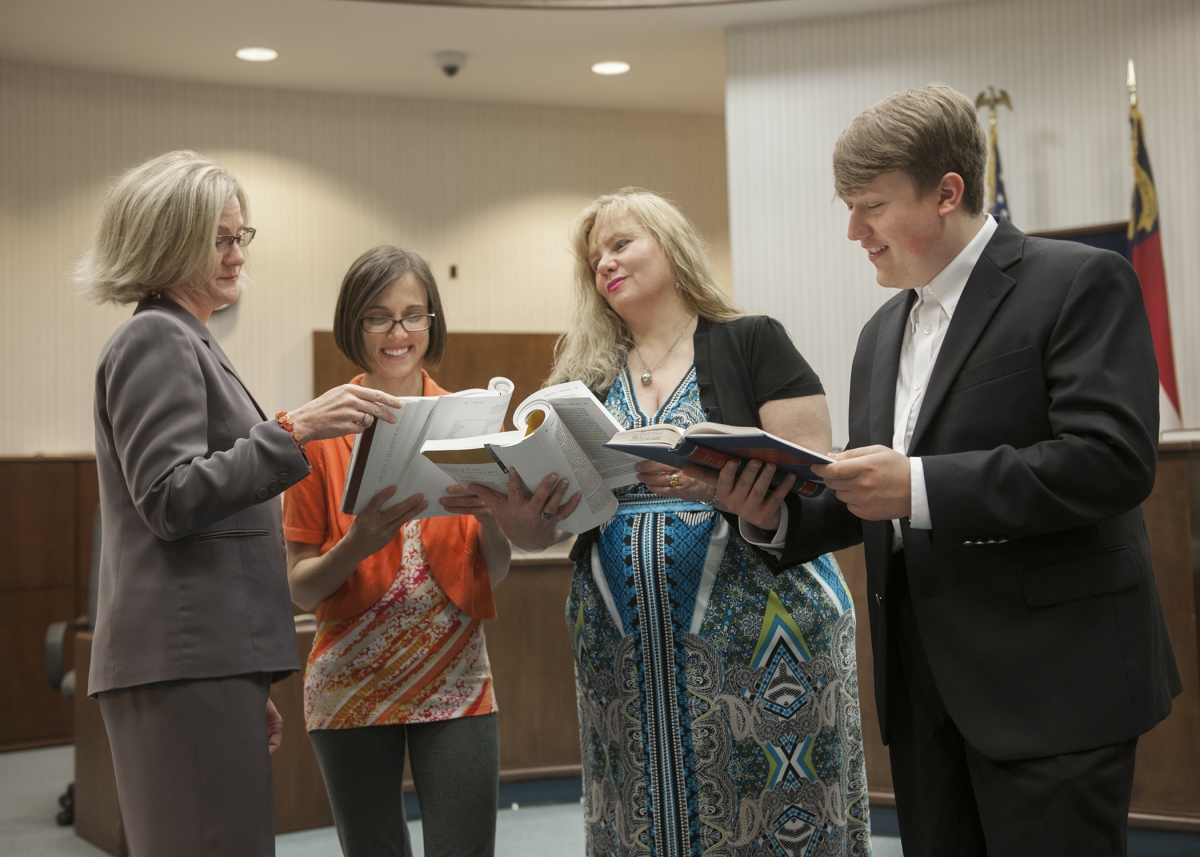 (Left to Right) Pamela Smith, Paralegal Technology Program Coordinator and Instructor, stands with Britney Beck, Sherry Parris and AJ Braswell in a local court room.
Southwestern Community College's Paralegal Technology program has been ranked 11th in the nation among community colleges for 2019 by TheBestSchools.org.
According to the organization, "TheBestSchools.org connects prospective students with the best online degree programs available. Southwestern stands out as one of the best of the best." The program is almost entirely online, with the exception of four hybrid courses. SCC offers both an A.A.S. degree program as well as a Certificate in Paralegal Technology for those who already hold a degree in another field.
"Our students really thrive from the flexibility of our program," says Pamela Smith, Paralegal Technology Program Coordinator. "They prepare for the field with quality coursework in subjects like civil litigation, family law and commercial law, but they get to learn in a way that fits their lifestyle needs."
SCC's Paralegal Technology curriculum develops individuals to work under the supervision of attorneys by performing routine legal tasks and assisting with substantive legal work.
"Our required internships also really help students to get a foot in the door," says Smith. "Because of those, most of our students secure jobs right after graduation."
Graduates are trained to assist attorneys in probate work, investigations, drafting and filing legal documents, public records search and research. Employment opportunities are available in private law firms, governmental agencies, banks, insurance agencies, and other business organizations. Graduates are eligible to take the Paralegal Certification Exam administered by the North Carolina State Bar.
This program can also be a first step to becoming an attorney. All of the courses are transferable into a bachelor's program.
"I earned my paralegal certificate before law school," says Smith. "Those courses definitely gave me an advantage over other law students. Paralegal courses are the first step to any career in the law."
To read the feature on TheBestSchools.org, please click
here
.
For more information on SCC's Paralegal Technology program, contact Smith at
p_smith[at]southwesterncc[dot]edu
or 828.339.4209.