RIBN allows students to pursue nursing dreams
Even with a 4.8 Grade Point Average (GPA) out of high school and a 3.8 at Southwestern Community College,
Cullowhee
resident Danielle
Shomper
wasn't a lock to get in a Nursing degree program at
SCC
or Western Carolina University.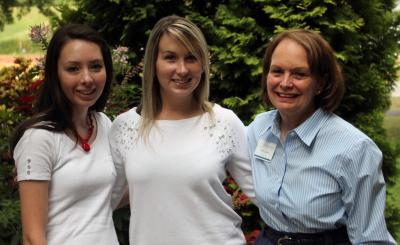 Southwestern Community College nursing students Cathy Huntsman of Cherokee (left) and Cullowhee resident Danielle Shomper (center) stand beside Linda Deeb, Student Success Advisor for RIBN (Regionally Increasing Baccalaureate Nurses) at SCC.
Neither was Cathy Huntsman of Cherokee, despite her 4.0 GPA through her first semester at WCU.
Thanks to the new Regionally Increasing Baccalaureate Nurses (RIBN) educational track, they're both enrolled this fall and on their way to pursuing lifelong dreams of becoming nurses.
"I'm so thankful," said Shomper, who's 19 and a 2012 graduate of Highlands School. "I didn't think I'd get to start this year. Now I just have four years to go. It's so hard to get in a two-year associate's degree program, much less a four-year program.
Getting into RIBN is no easy task, however. Students need at least a 3.0 GPA, an SAT reading score of 500 or higher and they need to have completed a TEAS exam. But upon meeting that criteria and getting selected, they get admitted simultaneously to SCC and WCU.
For Huntsman, who's 26, the program fanned the flames on a dream that had almost been snuffed out.
"I was inspired to go into nursing by my Grandma (Louise Otter)," said Huntsman, a 2005 Smoky Mountain High graduate. "She worked in the Cherokee hospital back in the days when they wore all-white nursing uniforms. She'd come home and tell us stories about what she'd done each day.
"I did an internship at the hospital while I was in high school," Huntsman added. "I worked toward getting in a nursing program. I went to BYU for three years but got rejected in their program. I applied twice to WCU's nursing program and got on the waiting list but didn't get in. I did get into AB Tech's program but certain circumstances in my life ruled that out. I had kind of given up. My spirits were down, and I took an EMT (Emergency Medical Technician) class. Then I heard about RIBN. I applied and finally got in a program.
"The nursing program is extremely hard to get into," Huntsman said. "But if anything, the challenges I've faced have taught me to never give up on my dreams."
Linda Deeb, Student Success Advisor for RIBN at SCC, said an increase in demand for nurses with bachelor's degrees prompted the creation of RIBN.
"Right now, 60 percent of the nursing workforce has associate's degrees compared to 40 percent with bachelor's degrees," Deeb said. "By 2020, the Institute of Medicine wants 60 percent of the workforce to have bachelor's degrees. All the research and facts prove that there are better patient outcomes when bachelor's-educated nurses are providing care."
RIBN is coordinated statewide by the Foundation for Nursing Excellence with financial support from The Duke Endowment, the Jonas Center for Nursing Excellence, the Robert Wood Johnson Foundation and the NC Area Health Education Centers Program.
Through RIBN, Shomper and Huntsman will take the majority of their coursework at SCC while completing one class per semester online at WCU. They'll have an advisor at every level as they work toward completing their education.
Shomper said she's also had a lot of support from home.
"I'm the first person in my family to attend college, so that is what really encouraged me to do everything I possibly could to make my parents (Lisa and Dan Shomper) proud and get into the nursing program," Shomper added. "If not for my parents guiding me and doing everything they could for me to go to college, I wouldn't be in this wonderful program right now."
The program was originally piloted by WCU and Asheville-Buncombe Technical Community College. Students in that first cohort graduated from AB Tech in May and are enrolled at WCU this fall.
For more information about RIBN, contact Deeb at 828.339.4367 or
l_deeb[at]southwesterncc[dot]edu
.