SCC Respiratory Therapy Clinical Coordinator receives statewide award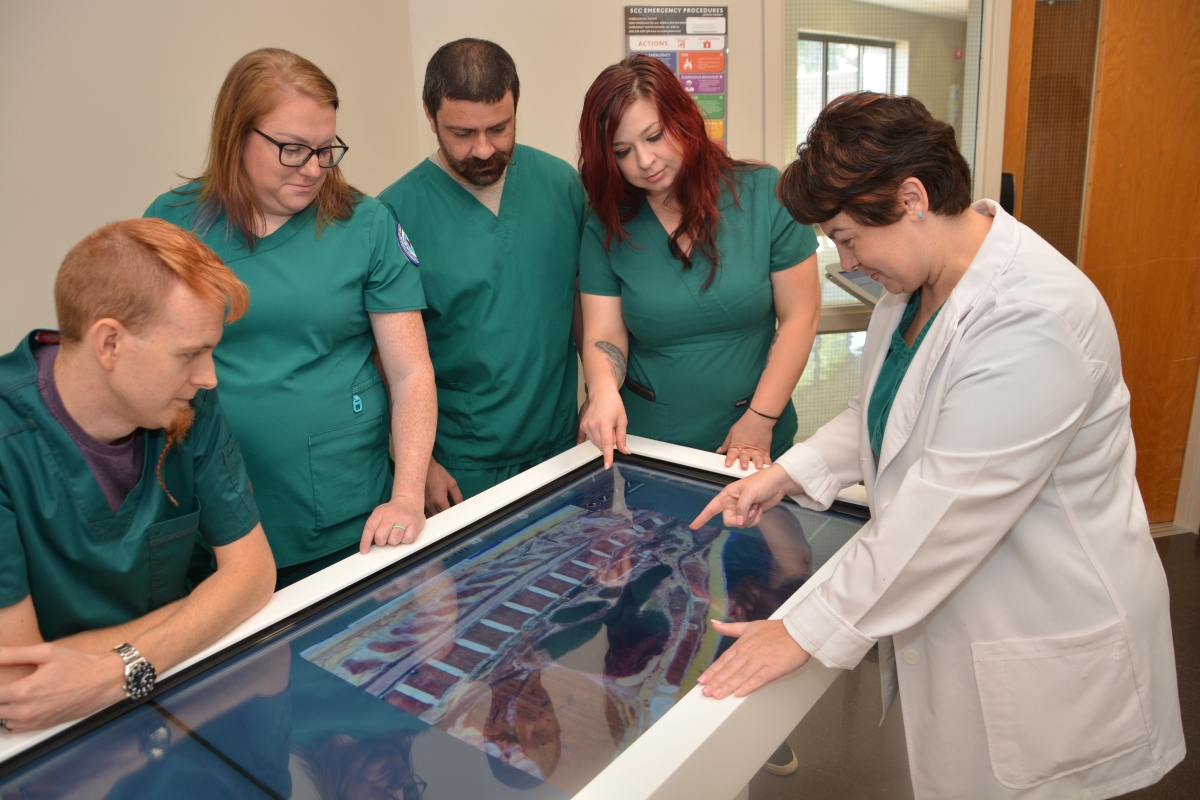 Marissa Gilligan, SCC's Respiratory Therapy Clinical Coordinator and Instructor, provides a demonstration for students on SCC's new Anatomage virtual anatomy table. 
Southwestern Community College faculty member Marissa Gilligan was recently honored with the Gail Gane Educator of the Year Award from the North Carolina Society for Respiratory Care (NCSRC) for 2019. This award is given to one North Carolina educator each year.
Gilligan, who serves as Respiratory Therapy Clinical Coordinator and Instructor, received the award at the 2019 NCSRC Symposium on Wednesday, Sept. 11, at the Crowne Plaza Hotel in Asheville.
After receiving her Associate of Applied Science in Respiratory Therapy from Independence University in 2009, Gilligan worked in multiple states, taking leadership roles at Detroit Medical Center in Michigan and Mission Hospital in Asheville.
She joined SCC in January 2017 as an Interim Clinical Instructor for the Respiratory Therapy program before accepting the position of Clinical Coordinator, following the completion of her bachelor's degree in May 2018. She is expected to graduate with her Master of Healthcare Administration in September from Independence University.
"I have a passion for education and imparting knowledge to my students," said Gilligan. "I love that SCC gives me the ability to interprofessionally teach and collaborate with other healthcare programs here. It makes our programs even more dynamic and strong for our students."
SCC's Respiratory Therapy program prepares students for diagnosing lung and breathing disorders, analyzing breath, blood and tissue specimens, managing ventilators, providing chest physical exams and more.
Graduates are eligible to take entry-level examinations from the National Board of Respiratory Care. They may also take the Advanced Practitioner examination, which is required to become a Registered Respiratory Therapist. Gilligan recently negotiated an articulation agreement with East Tennessee State University that will allow graduates to transfer credits toward an online bachelor's program.
"I am proud to be recognized among my colleagues and fellow educators in the field," said Gilligan. "This is such an honor that I cannot put into words."
Gretchen Guelcher, Respiratory Therapy Program Coordinator and Instructor, also presented research with support from Gilligan at the NCSRC Symposium on interprofessional code blue education and training that was done at SCC.
For more information on the Respiratory Therapy program, contact Guelcher at
g_guelcher[at]southwesterncc[dot]edu
or 828.339.4472.