Sonography students make critical discovery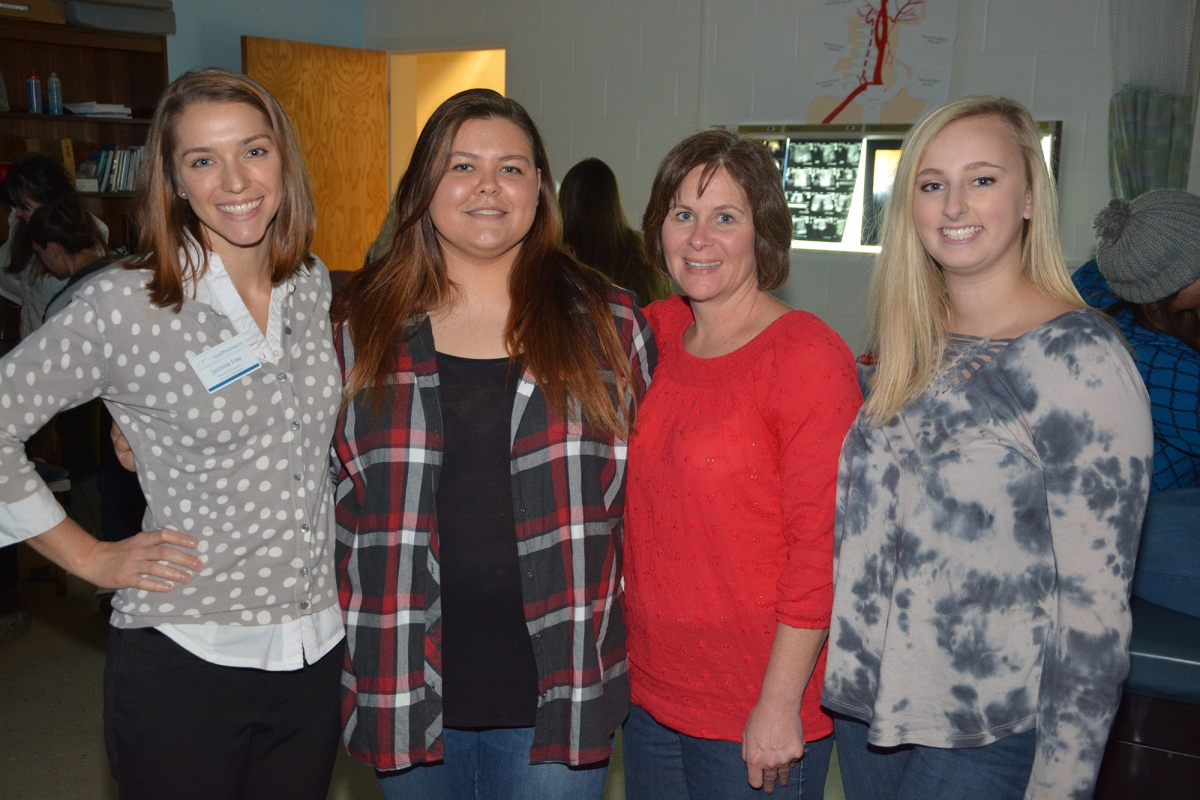 SCC sonography instructors and students who discovered a life-threatening condition in a patient recently were, from left: clinical coordinator Jasmine Free, Emily French of Sylva, program coordinator Debbie Eavenson and Laken Grasty of Waynesville.
Late last month, Lynda Parlett had a strong feeling that something wasn't quite right with her huband Steve.
His shortness of breath, dizziness and other symptoms triggered frightening memories of when he'd been struck by a pulmonary embolism, cardiac arrest and a brain hemorrhage five years earlier. He'd also suffered a stroke on Sept. 18 of this year.
The re-emergence of familiar symptoms in the final week of October prompted a neurologist to order tests aimed at finding the root cause, but Steve's condition worsened before the test could get scheduled. Sensing time was not on her husband's side, Lynda called a colleague at Southwestern Community College: Medical sonography program coordinator Debbie Eavenson.
"I was extremely concerned that something serious was going on," recalled Lynda Parlett, SCC's executive director of institutional development and Steve's wife of nearly 29 years.
Turns out, Lynda's instincts were spot-on.
Medical sonography faculty and students cleared their calendars and made room for the Parletts to come in that same day. Assisted by Eavenson and clinical coordinator Jasmine Free, SCC students Laken Grasty of Waynesville and Emily French of Sylva scanned each of Steve's arms.
"Laken did his right arm, which was clear," said French, who's in her second year of SCC's medical sonography program. "Then I did his left arm, which was one of the first arms I've ever done. We had Debbie watching us and guiding us through. We started on the jugular vein, and already something was off.
"We had several signs that there was a problem because his vein wasn't compressing all the way (when pressing down with the probe), and – further down the arm - it also wasn't augmenting (when releasing a rush of blood flow through his arm)," French added. "At that point, Debbie took over because this was the first arm I'd done. She found the same thing."
What French and Eavenson had discovered was a clot that could have at any point traveled through Steve Parlett's veins and into his lung – becoming a pulmonary embolism.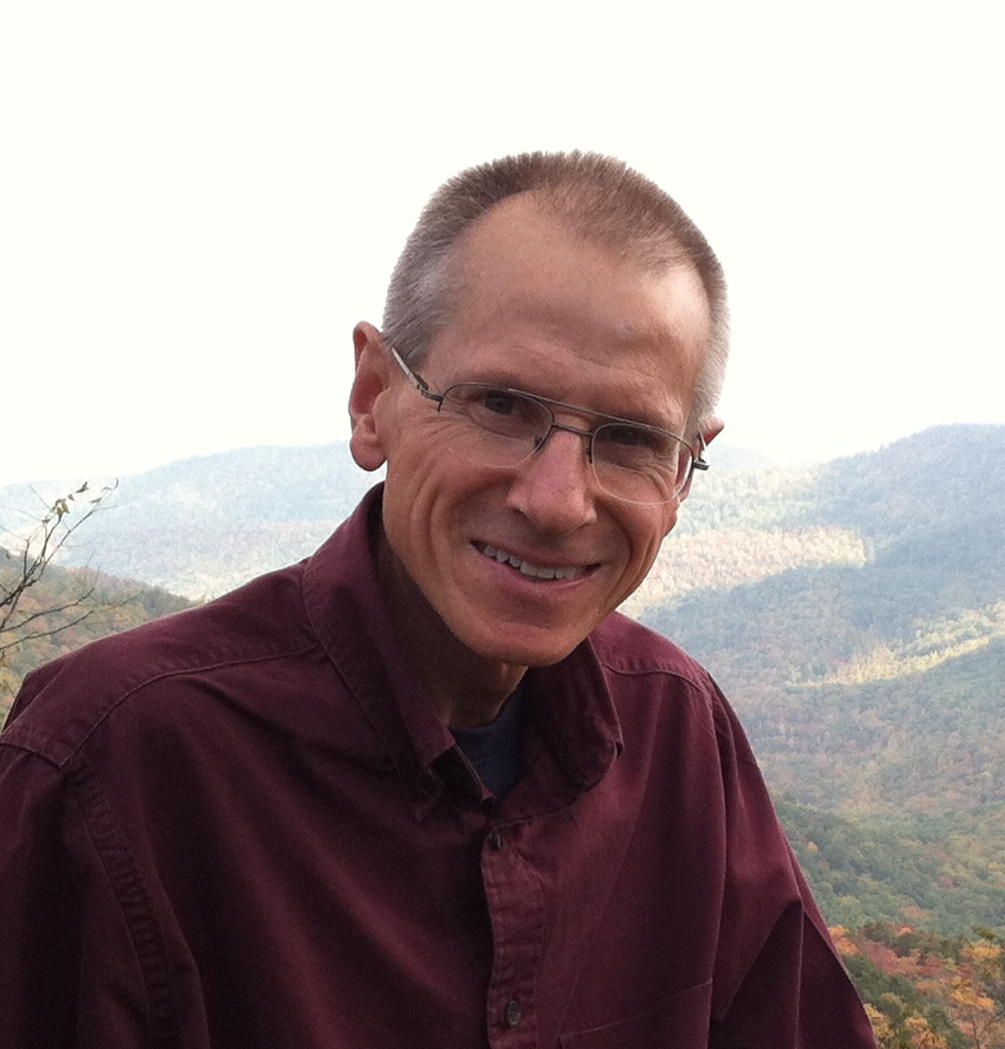 Steve Parlett of Sylva recently underwent a sonography exam conducted by SCC students and faculty, who discovered a life-threatening condition.
A bout with Hodgkin's lymphoma in the early 1990s had reduced Steve's lung capacity to 50 percent and left him particularly vulnerable to an embolism's frightening implications.
The findings by SCC students and faculty members helped fast-track care for Steve, whose primary care physician quickly prescribed blood thinners to alleviate the life-threatening condition.
"We really would have done this for anyone in our SCC family; It was more of an outreach opportunity to our staff member," Eavenson said. "But it was also a learning opportunity for our students. It came on the perfect day because we had talked about that very same topic in class. So they were kind of getting to see pathology as we were doing it. It was a good scenario for the students and obviously a better outcome for Lynda's husband."
No strangers to medical tests and severe health issues, the Parletts were particularly thankful for the skill and kindness shown to them by the future sonographers and their teachers.
"We truly believe our sonography program saved Steve's life," Lynda Parlett said during an interview in her office last week. "If we hadn't found this right away, it would have been catastrophic. Because of what the students found, Steve's doctors are getting more testing done so that we can treat the underlying issues.
"These students and instructors are literally lifesavers," Lynda continued. "They were so wonderful with him. He was still recovering from his stroke, so he had some confusion, but they patiently explained what they were doing. Since 1990, we've had a lot of experience with healthcare professionals. The folks in our sonography program went far above and beyond in caring for Steve, and we are both very grateful."
Grasty, who's also in her second year at SCC, said this particular clinical discovery was the kind of experiencce that could help her save even more lives once she completes her associate degree and begins her career in the field.
 "Most people we scan are healthy, so we don't often see problems with pathology," said Grasty, who hopes to eventually secure a job at a dedicated vascular clinic. "So this was a good learning experience for us.
"This is an awesome program," Grasty added. "It is a very hard program, but it is definitely rewarding. You get so much experience, and the teachers are great. We've become like a family with our classmates."
SCC has 14 health sciences programs, several of which offer clinics to the public as an essential component of the learning process. Area residents can contact the health sciences division for information at 828.339.4305 or s_seibert[at]southwesterncc[dot]edu.
The college is currently in the planning stages for a 55,000 health sciences building that is currently on target to be completed in 2020.
Dr. Mitchell Fischer, dean of health sciences at SCC, said that new building will allow his division to greatly expand the students' clinical learning experiences with the public as a way of gaining more valuable, hands-on experiences such as the sonography students recently gained by helping the Parletts.
"My first thought when I found out about the Parletts' case is that we are living up to our name as a service to the community," Dr. Fischer said. "I am proud to see that we're crossing our t's, dotting our i's and listening to our patients. By teaching our students the right way now, and because they're already seeing the impact of paying attention to every detail, we believe these traits will stick with them through their entire career as they live, work and care for your family and mine in the years ahead."