Student of the Week: Beth Gibson
Congratulations to our student of the week, Beth Gibson! Beth is on track to graduate in the spring of 2020 in Office Administration and Accounting and Finance. Read her statement below:
"I retired at the age of 49 having worked 30 years at Swain County Health Department. I then went to work part-time for an accountant and left there to work full-time as Finance Officer for Swain Transportation, State of Franklin Health Council, and Swain County Senior Center. I am currently not working and one day I decided to apply at SCC as it has always been a dream of mine to obtain a degree. I have a lot of working experience, but most employment opportunities require a degree."
"I am presently 53 years old and thought at first I was too old to go back to school, but something just told me to go for it. Both my husband of 33 years and daughter are supportive of my decision to return to school. I signed up for five online classes and first I thought, "what have I gotten myself in to." This was the first time I had taken online courses, and at first I was overwhelmed trying to grasp Blackboard. I watched the tutorial that SCC provided and eventually caught on. Now, it is a breeze. I enjoy the ability to work at my own pace and work ahead on my courses as time permits. My instructors have been wonderful and supportive. Comments and feedback I have received from them has been very valuable and I have been encouraged to go above to work as hard as I can and do my very best. "
"Life is hard sometimes. Circumstances or things happen that you don't foresee. I would encourage everyone to go to college and get a degree. It just so happened that I got an awesome government job after completing high school, so I didn't go on to college. If I had it to do over, I would have continued taken classes and gotten my degree sooner. My philosophy though is "better late than never". Even if you cannot attend full-time at least do one or two classes as you can. Eventually, it will pay off. In a blink of an eye, you will turn around and be graduating!"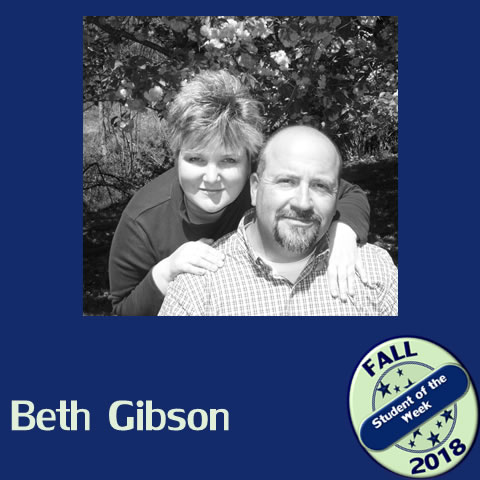 Beth Gibson, pictured here with her husband.