Student of the week: Wynette Wiles
Congratulations to our student of the week, Wynette Wiles! Wynette is studying Human Services Technology and is set to graduate in 2020. 
"My role model is my great-aunt Winnie, who is no longer with us. She lived to be 104 years old. Although my great-aunt died many years before I enrolled in school at SCC, she would be thrilled to know I am following my passion by returning to school. I remember her saying: "Age is just a number, you are never too old to learn something new." After all, at 94 years old, she learned to paint with watercolors and started her own non-profit organization. I admired her optimism, her "can-do" attitude, and her genuine care for people. On many occasions, Winnie would say to me, "You are special," to which she would explain that everyone has a purpose and a place in life."
"Its been 33 years since I attended college, the thought of coming back felt intimidating. After 9 years of procrastinating, I am finally here. This time, I am following my passion, which is to help those in need."
"For many years, I volunteered in the community to help those who were down on hard times and those afflicted by the disease of addiction. I found much gratification helping those in need, a little can go a long way. My career and prior degree allowed me to work, but in time I realized this was not my passion. Turning 60 years old, I realized that I want to do something meaningful with my life. After much soul searching, I decided to enroll in the Human Services program at SCC.
Working 40+ hours a week in another county, volunteering in the community, and dealing with family matters can be overwhelming as a part-time student. There is not enough time in the day to do everything I want to do. What keeps me grounded is my passion, as I can envision where I will be in the next couple of years. I focus on accomplishing short-terms goal which will lead me to my long-time goal — being an SCC graduate in Human Service Technology and working in the substance abuse field."
"What advice would I give other students who face tough challenges?  First and foremost, I would say follow your passion. It is your passion that will motivate you and get you through the tough times. Shoot for the small, short-term goals which will eventually get you to your ultimate goal. Always look at as glass half full, instead of glass half empty. Optimism makes all the difference in how you perceive your life. Self-care is important; don't forget to take some time out for yourselfwe all need a break. Share what is on your mind by staying in touch with caring friends and/or support groups. Never underestimate what you are capable of accomplishing."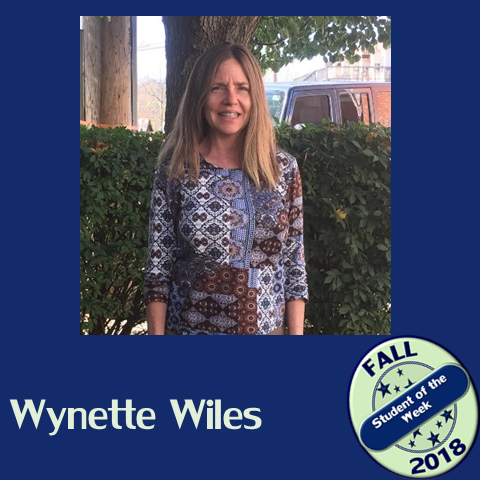 Student of the week, Wynette Wiles