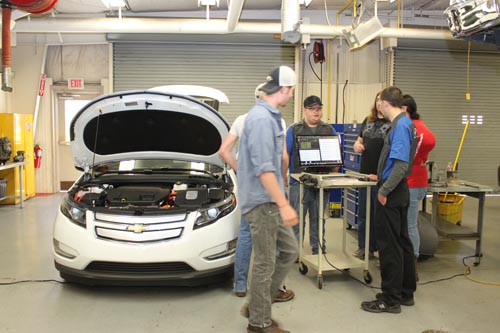 Sylva resident Brian Hooper (standing behind monitor) and other students in SCC's automotive systems technology program listen to instructor Charles Braswell (blue and black shirt) as he explains the differences of using a scan tool on a hybrid like the Chevy Volt pictured at left compared to a conventional automobile. Smoky Mountain Chevrolet in Franklin recently loaned SCC the Volt for a day so students could get some hands-on training with a hybrid vehicle.
 
The model's name is singular.
Raise the hood, though, and the Chevy Volt actually has well over 300.
"That's about the same as working on a power line," mused David Myers, coordinator of Southwestern Community College's Automotive Systems Technology program. "It's a big change from a carburetor. I'd say half of our students had never seen under the hood of one of these before."
That's why Smoky Mountain Chevrolet of Franklin recently loaned the hybrid vehicle to Myers, fellow instructor Charles Braswell and SCC students for a day.
The Volt is electric-driven though it uses gasoline for charging the battery as needed. It can also transition to running on gasoline for longer trips.
"We are so grateful to local dealers like Smoky Mountain Chevrolet for allowing us to train our students on these types of vehicles," Myers said. "Andy Shaw Ford has loaned us some of their hybrid models in the past, too. Once our students actually get to work with one of these up close, they want to know more about it. They've been asking me more questions about hybrids every day since we had that Volt here.
"This is the most prevailing new technology out there, and our students need to know how to work on these."
Myers said GM currently sells five hybrid models, and hybrids make up a higher percentage of all major manufacturers' fleets compared to several years ago.
Brian Hooper, a student in Myers' program, was intrigued by the Volt.
"The experience was electrifying," said Hooper, who lives in Sylva. "It was good to see what the automotive field is primarily going to. It was great to spend the day with the Chevrolet Volt and to actually get to ride in it to see what it actually runs like. It was shocking to see all the screens on the dash that show volts and amps. It runs very smooth. I'd like to thank Smoky Mountain Chevrolet for providing the car for the day."
For more information about SCC and its programs, visit southwesterncc.edu or call 828.339.4000.