Three join Board of Trustees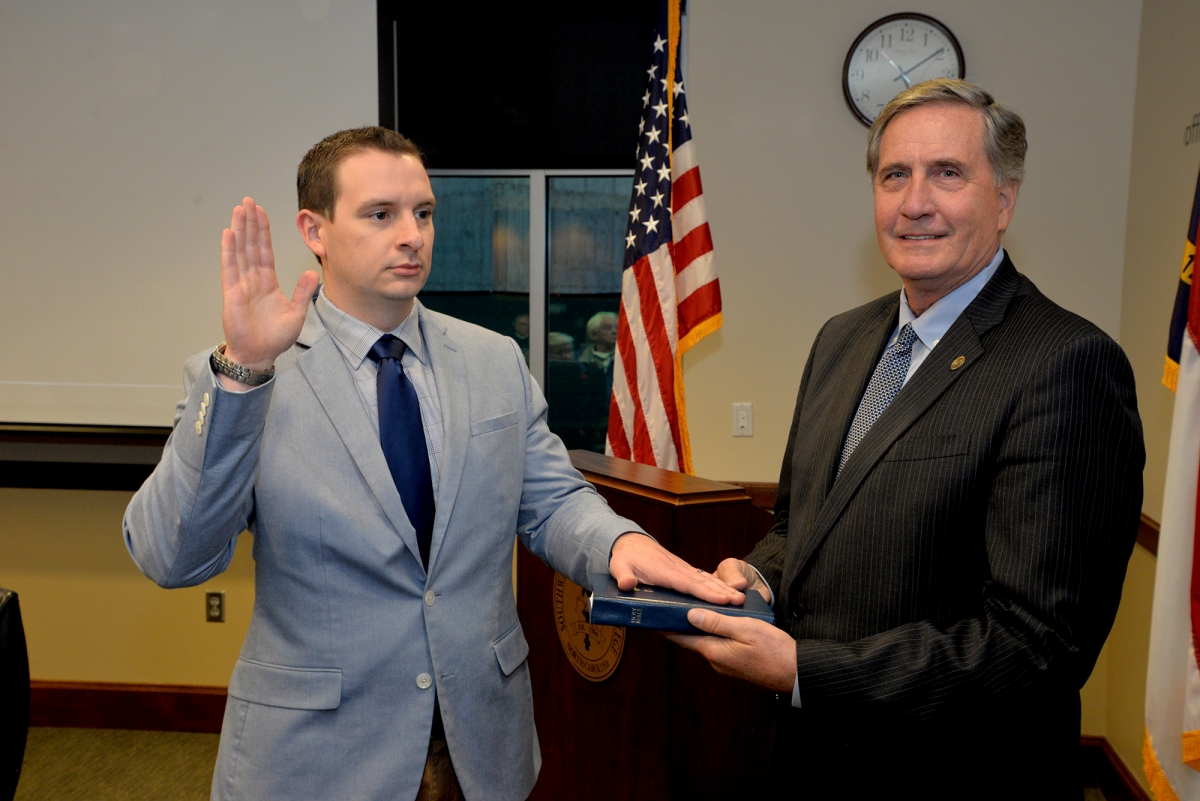 ABOVE: Dr. Don Tomas (right), President of Southwestern Community College, holds a Bible as Brett Rogers is sworn in as a member of SCC's Board of Trustees on Nov. 19 at the Jackson Campus in Sylva. BELOW: Cory McCall (left), a new member of SCC's Board of Trustees, stands beside Dr. Don Tomas (center), SCC President, and Jerry Sutton, McCall's grandfather who served on the same board from 1983-2015. Sutton held the Bible as McCall was sworn in by Ann Melton, Jackson County Clerk of Superior Court, on Nov. 19, at the Jackson Campus in Sylva.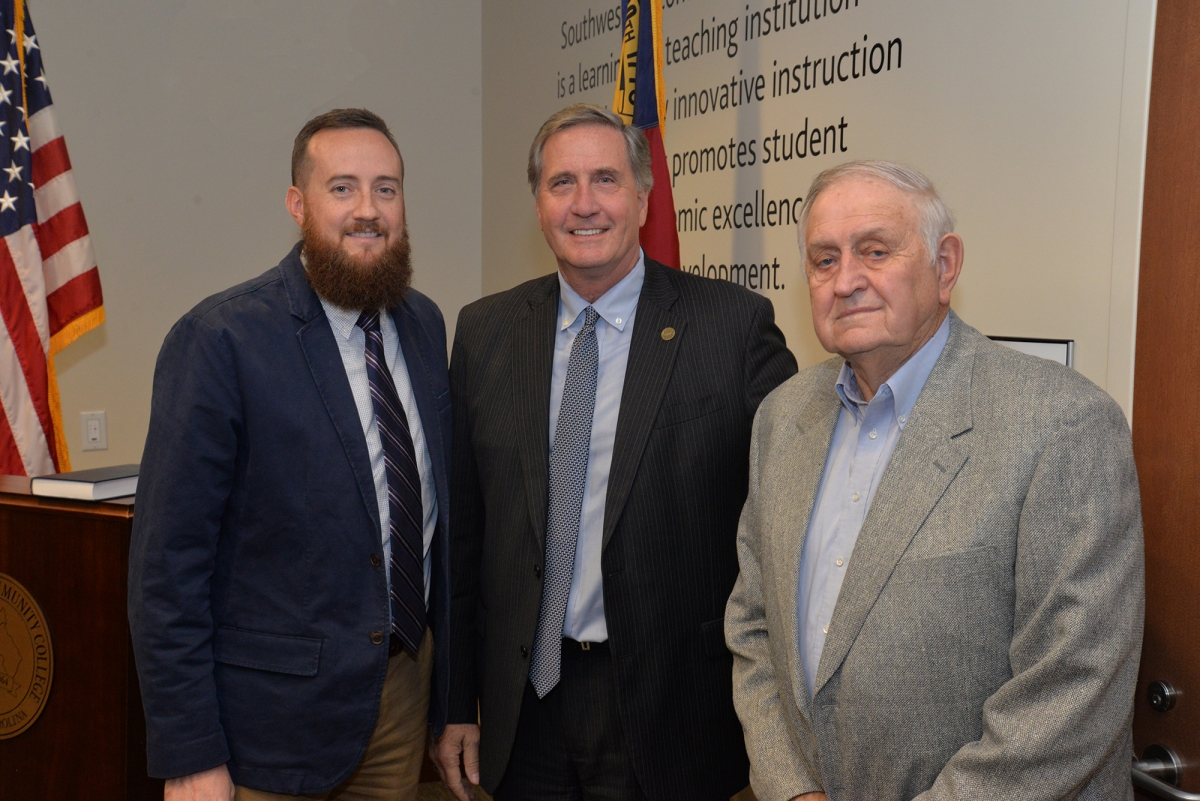 Two Macon County businessmen and a student representative were recently sworn in as the newest members of Southwestern Community College's Board of Trustees.
Brett Rogers, Vice President of Duotech in Franklin, joined Outdoor 76 Co-Owner Cory McCall and SCC Radiography student Megan Beck on the board during the Nov. 19 meeting at the college's Jackson Campus.
Rogers spent most of his life growing up in Franklin and graduated from Cedarville University (Ohio) in 2010. In his role at Duotech, which provides military electronics repair services and radar systems upgrades, he's worked with Southwestern's Workforce Continuing Education division to coordinate customized training for employees.
He's also been impressed with the work he's seen SCC do across the region.
"I'm excited to be a part of the team at Southwestern," Rogers said. "They're quality people, and they all have serving hearts. We have the same goals and a heart for the community. I've always been an advocate for skill-based training, and SCC fills that vital role. The direction the college is heading is exciting. They tailor programs to meet the needs of our area."
McCall is an eighth-generation native of Macon County. In addition to Outdoor 76, a specialty outfitter in downtown Franklin, McCall co-owns Brown Dog Tees and Rock House Lodge. He holds a bachelor's degree in Hospitality and Tourism from Western Carolina University.
He serves on the Macon County Economic Development Commission board along with the Growing Outdoors Partnership. McCall's grandfather, Jerry Sutton, served on SCC's board for 32 years.
"The last nine years in business have taught me the importance of having education as a foundational building block for workforce development." McCall said. "I look forward to serving the communities and residents of Western North Carolina just as my grandfather did for more than three decades."
Beck, who lives in Tuckasegee, is a second-year student in SCC's Radiography program and plans to graduate in May. Though Beck will not be a voting member, she will have a seat at the table and can offer insights from a student perspective.
"I'm thankful to Mr. Rogers, Mr. McCall and Ms. Beck for their willingness to serve," said Dr. Don Tomas, SCC president. "For more than 55 years, Southwestern has been blessed with unselfish community leaders who have worked together to support our college and help our students succeed. I look forward to working with our new trustees and current board as we continue building upon that tradition of cooperation and progress."
For more information about Southwestern, browse through this website, call 828.339.4000 or drop by your nearest SCC location.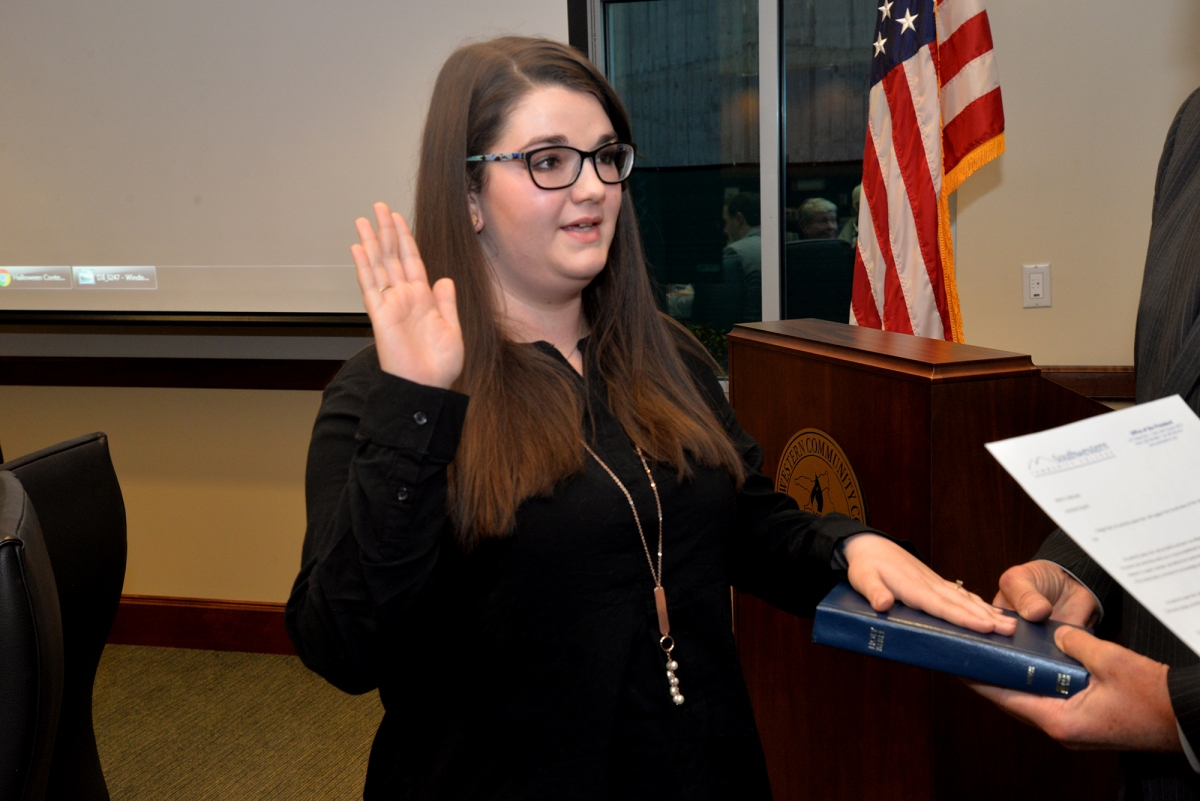 Megan Beck of Tuckasegee is sworn in as the student representative to SCC's Board of Trustees on Nov. 19 at the college's Jackson Campus in Sylva.