Tribal Employment Rights Office receives Governor's NCWorks Award of Distinction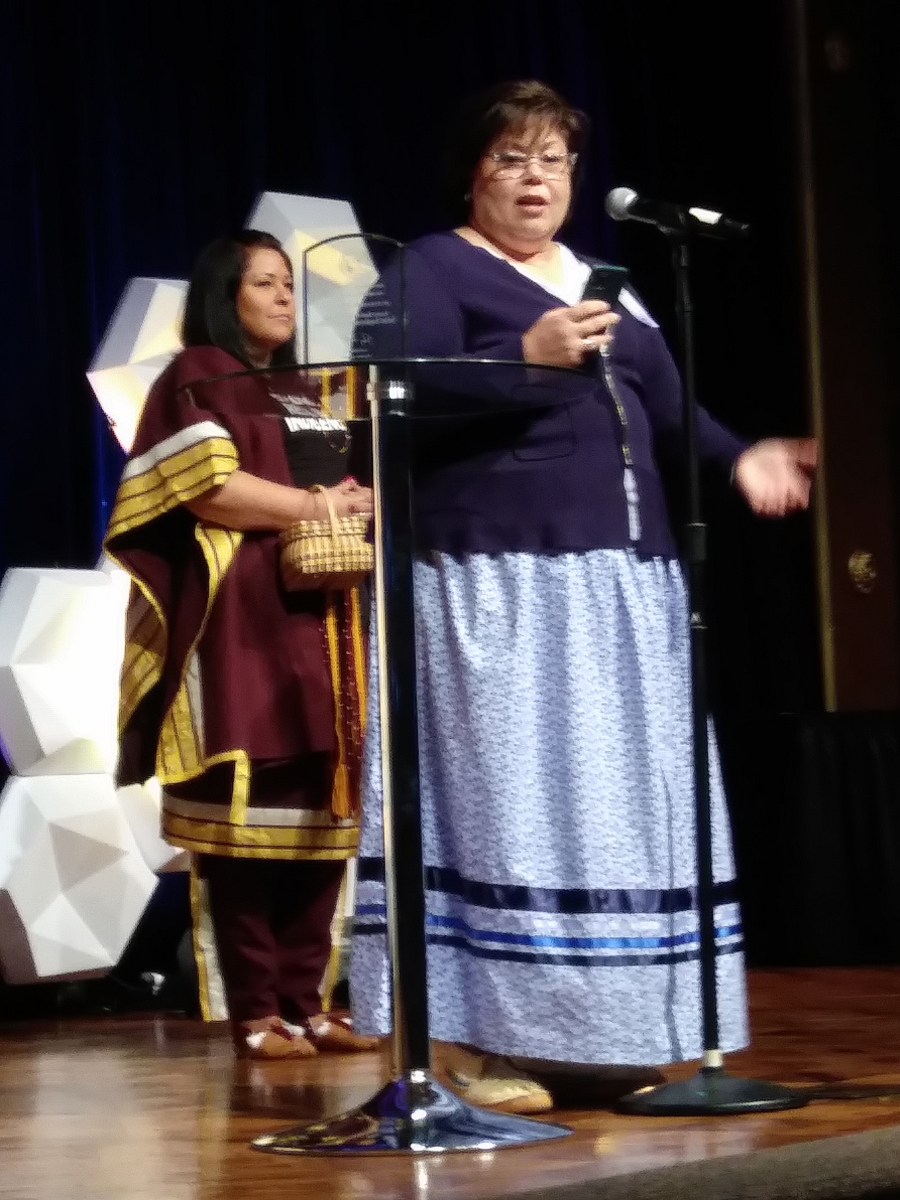 In front, Terri Henry, director of TERO, accepts the Governor's NCWorks Award of Distinction. In back is Billie Jo Rich, program supervisor for Mother Town Healing. SCC has been working with Mother Town Healing since 2018.
The Tribal Employment Rights Office (TERO) was recently recognized at the 2019 NCWorks Partnership Conference in Greensboro when they were awarded Governor Roy Cooper's NCWorks Award of Distinction for outstanding accomplishments and contributions in
workforce development spotlighting the Mother Town Healing Program.
The Mother Town Healing Program clients are provided with different avenues to reintegrate into society and must be enrolled in a recovery program and sober for 90 days in order to be considered for the services that are provided. TERO works with tribal members who are battling drug and alcohol addictions or have been involved with the justice system. "Our goal is to provide a support system to our people and to let them know that they can be part of society," says Terri Henry, director of TERO.
TERO assists clients with employability skills, mentoring, mental health services and job placement with the possibility of a one-year internship. Clients can obtain their high school equivalency diploma through classes offered by SCC at the Ginger Lynn Welch Complex in Cherokee.
"Southwestern Community College (SCC) is honored to be a community partner with TERO and provide employability training, such as the Working Smart curriculum and resume workshops to the Mother Town Healing Program. We are also working with TERO to provide those and other services to an expanded client base," says Melanie Price, college and career readiness coordinator at SCC. "There is great passion put forth by the leadership in this organization and they deserve our sincerest congratulations."
To learn more about SCC's partnership with TERO, please contact Melanie Price at
m_price[at]southwesterncc[dot]edu
or 828.366.2023.