Two Nursing Students Recieve Rotary Scholarship
By: Kaitlyn Carver Cochran

FRANKLIN-
Two Southwestern Community College nursing students were recently honored at Tartan Hall for receiving Rotary Club scholarships.
Megan Crisp and Maryanne Davey, both of Franklin, received scholarships on Nov. 14 by the Rotary Club of Franklin worth $1,500 a piece
Crisp, 23, is thankful for the extra help the scholarship provides.
"I work limited hours now because nursing school is so demanding," said Crisp. "This scholarship will help me finish my degree without worrying about my bills piling up, or unforeseen expenses, like appliances breaking, or car repairs."
Davey, 24, said this scholarship is going to help provide for her and her three-year-old son as she works to make her dreams come true.
"Being in nursing school and working part-time has taken a toll on my ability to provide for the things I need for my son and I," said Davey. "I'm almost at the finish line now and I am so grateful for the support I've gotten from my community and my school."
The two students applied for the scholarship in the summer. The application process required a transcript, letters of recommendation and an essay portion.
"Rotary is committed to supporting education and service," said Janet Greene, President of the Rotary Club of Franklin. "Megan Crisp and Maryanne Davey exemplify commitment to service in their chosen profession. Their dedication to completing their education is an inspiration to us, and we are honored to be able to help them."
For more information on the Rotary Club of Franklin, visit:
https://franklinrotary.com/
For more information on Southwestern Community College's Nursing program, contact Wendy Buchanan at
w_buchanan[at]southwesterncc[dot]edu
, or visit
www.southwesterncc.edu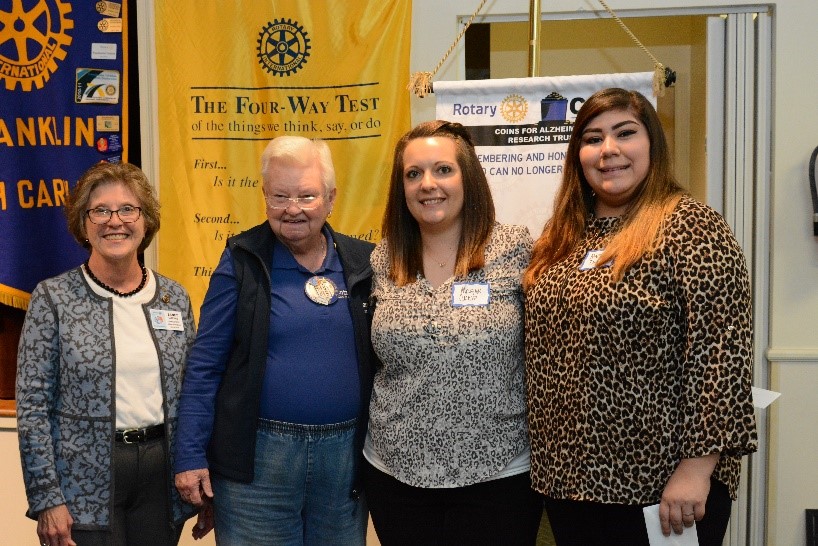 From left to right: Rotary Club of Franklin President Janet Greene and Rotary member Nancie Wilson are pictured here with SCC students Megan Crisp and Maryanne Davey.