What will a digital workforce mean for the U.S. economy?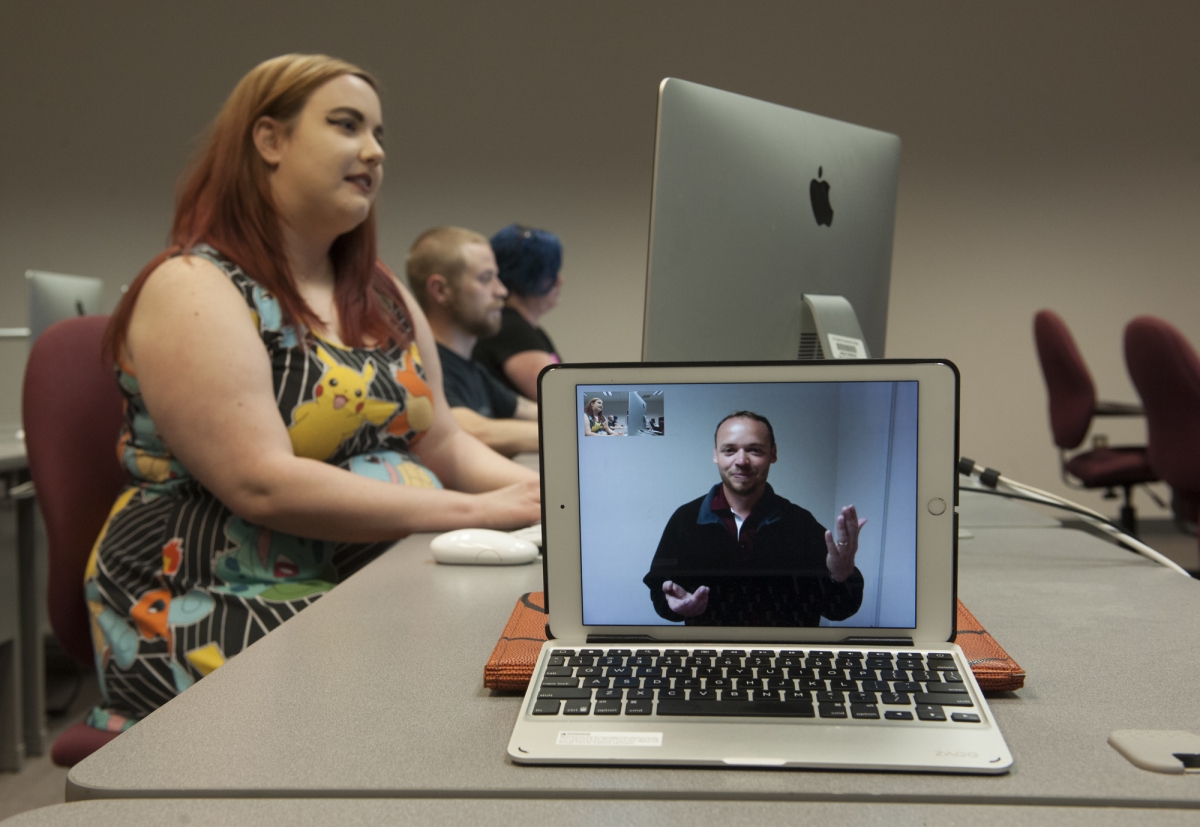 Scott Cline, Information Technology Programs Chair at SCC, uses video conferencing software to teach a course.
After urging from the Centers for Disease Control, President Donald Trump and other leading officials, millions of Americans have begun social distancing to prevent the spread of Coronavirus (COVID-19).
For many, that includes teleworking: completing a full day's work in front of their home computers, sending and receiving instant messages and holding video conferences with colleagues while spouses, children and pets linger in the background.
With teleworking becoming the new norm for the foreseeable future, businesses and employees face both new challenges and opportunities. The true impact of a digital workforce on the economy is still unknown, but instructors from Southwestern Community College's information technology and computer science fields anticipate major changes.
"I think that companies will likely see a decrease in their utility bills and their absenteeism. At the same time, they will see an increase in the quantity and quality of work and the morale of their employees," said Dawn Harrison, Computer Information Technology Instructor at Southwestern Community College. "The employee is likely to feel more empowered and enjoy the flexibility offered by teleworking. It's a win-win for both. I believe that many companies will continue with teleworking, even after the pandemic is over."
Scott Cline, Information Technology Programs Chair at SCC, added that although households may feel hectic right now with almost all other industries physically closed (such as public schools), teleworking in general is a positive experience.
"We're already seeing this transition in larger cities where companies have employees working from home all over the world, and I think that we will see more and more companies making the transition to teleworking once they see how well it works," said Cline. "For example, it often takes employees 30 minutes to an hour one-way to get to work. This allows employees to cut travel time out, giving them more time at home to spend with their families, friends or pursue recreational activities, which makes them much happier."
Following the current economic shift, Harrison and Cline expect a huge surge in digital related jobs, especially information technology.
"IT professionals are the life-line for companies that are mandating teleworking. They are the ones who are setting up the networks, securing the networks, training employees and providing much-needed support throughout the company," said Harrison. "IT permeates every industry, from agriculture to entertainment to law, with both major companies and local companies having some sort of digital presence and requiring network professionals. Prior to COVID-19 and this huge economic shift, IT was expected to grow 12% between 2018 and 2028. Now, we're going to see those numbers climb even higher."
Cline said that even prior to Coronavirus, his department received multiple direct emails each week from local employers looking for qualified students.
Given the state of the economy, he's confident that number will grow and that many of his students will secure jobs immediately after graduation.
"The demand has continued to increase, and that's just locally. A quick search on a popular job hunting site produced more than 136,000 results. Just like the healthcare field, the demand for IT and computer science professionals goes up each day," said Cline. "There's no better time to enter the field than right now. No one knows just how long nationwide teleworking may last."
SCC currently offers four information technology degrees and four certificate options, all from different areas of IT such as software and web development, support and services, network management and cyber crime technology. These programs are all offered fully online, and many students work full-time and have family at home.
"In teleworking, quite often the communication takes place through video chat, instant messaging, phone and email. All of these forms of communication are used for our courses, so students know how to navigate these different digital environments," said Cline. "We also explore online workspace resources such as interactive documents, and we teach students how to use collaborative technology as part of a team."
For more information on any of the information technology programs at SCC, please contact Cline at 828.339.4494 or
scline[at]southwesterncc[dot]edu
.