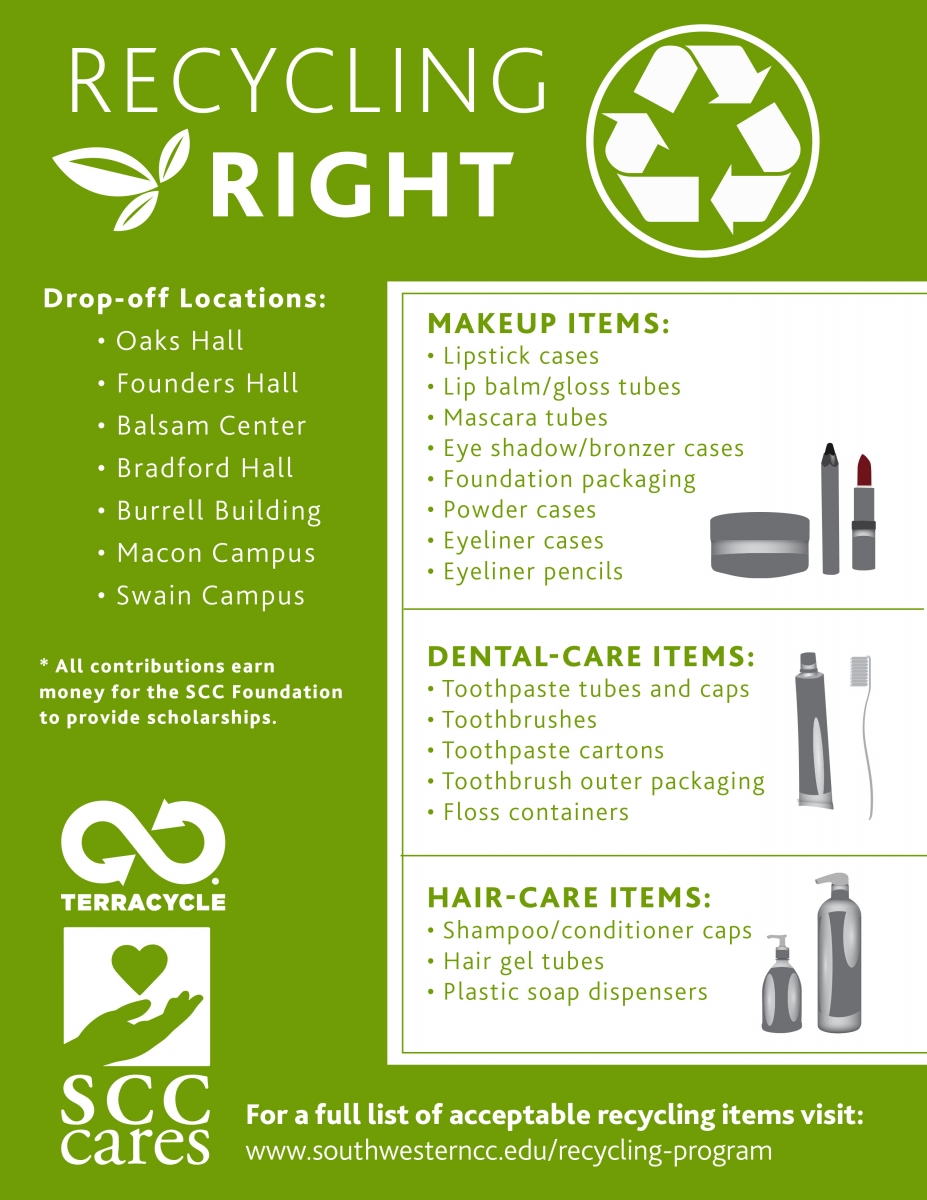 The SCC Cares Committee is happy to announce that we have partnered with TerraCycle to implement a new recycling program here at Southwestern Community College. TerraCycle offersfree recycling programs funded by brands, manufacturers, and retailers around the world to help individuals collect and recycle their hard-to-recycle waste. In addition to subsidizing the cost to ship these materials to them, they also donate money to a charitable organization of our choosing.  We are happy to say that our SCC Foundation will be the recipient of all funds raised through this program. 
If anyone in the public would like to participate in the TerraCycle project - dropping off items or creating your own collection site - please contact Amanda Allen (a_allen@southwesterncc.edu) for more information.
Items That Are Recyclable at SCC
Mixed Paper and Cardboard
• Newspaper
• Office paper
• Mixed paper
• Corrugated cardboard and boxboard
Bins available in all campus buildings.
Plastic, Glass, and Metal Food Containers (​Empty, Rinsed, Lids Removed)
• Plastics​: #1, #2, #4, #5, #7 (Plastic food and beverage containers)
• Glass: ​Bottles, jars, food/beverage containers
• Metals:​ Aluminum and metal cans, loose metal jar lids, steel bottle caps and foil
Bins available in all campus buildings.
TerraCycle Hygiene Items ​- ​Empty, Rinsed
• Makeup Items: Lipstick/balm/glass cases and tubes; powder cases; mascara;eyeliner tubes etc.
• Hair Care Items: Shampoo/conditioner lids/pumps; hair gel tubes etc.
• Dental Care Items: Toothpaste tubes/caps, toothbrushes; floss containers
Bins available in Oaks, Founders, Balsam, Bradford, Burrell buildings and Macon/Swain campuses.
Household batteries​- ​Must Be Unbroken, Under 9 volts
Bins available with Amanda Allen (Balsam Center) and Kristan Blanton (Macon Campus).
Prescription Glasses/Sunglasses
Collected by Lions Club International to be repurposed for those in need of prescription lenses
Bin available outside of Balsam 211.
Professional Business Wear
Collected by College and Career Readiness' Career Closet to provide interview and professional clothing to students.

Contact Donna Wilson, Administrative Assistant - CCR, for more information.

If you're unable to recycle through SCC, please consider recycling services in nearby counties. 
Click on a county name for specific waste management information: Jackson, Macon and Swain.