Instructions for All Divisions
 
May 15 drive-through ceremony arrival times:
10:30 a.m. - Arts & Sciences
11:15 a.m. - Health Sciences
Noon - Career Technologies
Here is a map of our traffic flow to help you prepare for logistics.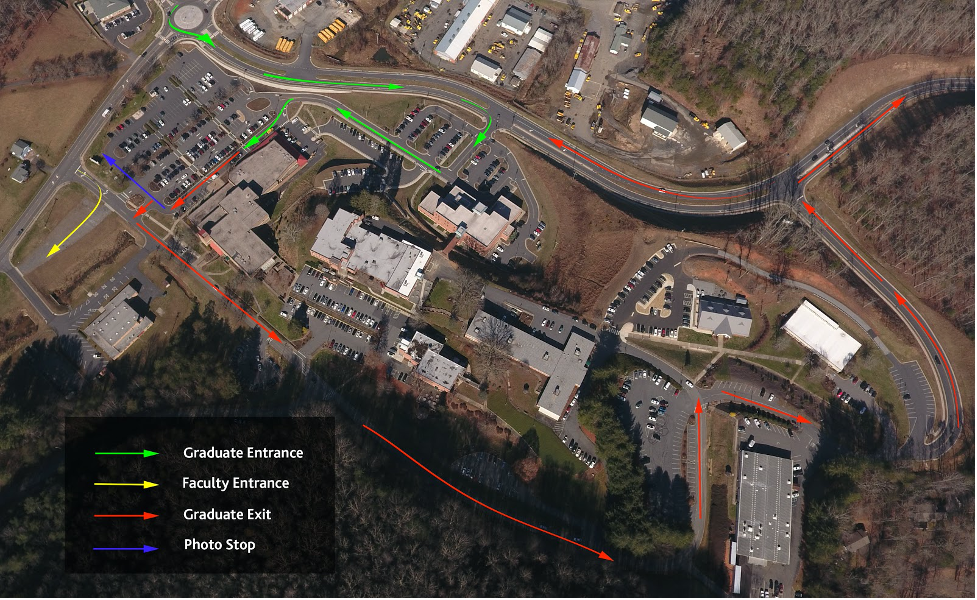 Following are the other key details we want to make sure you know about:
Since we are limiting graduates to the number of family and friends who can safely fit in your vehicle, we are providing a live video stream at this link. (please share with any loved ones who are unable to ride with you)
As you arrive on campus, tune your radio to 95.7 FM for greetings and instructions.
As you approach the front of Balsam Center, you'll be greeted by members of our Student Services team. They'll provide you with a gift bag, and a card with your name on it will be placed on your passengers' side windshield.
In order to keep traffic flow moving briskly, we need to limit the number of graduates in any particular vehicle to two (2) and ask that graduates either drive or ride in the rear/driver's side seat of the vehicle.
Before accepting your diploma cover and shaking hands with Dr. Don Tomas (SCC President), please sanitize your hands. 
At no charge to you, we will provide an opportunity to get your professional graduation portrait taken after receiving your diploma cover. (see blue arrow in map above for directions)
You may want to purchase a cap and gown for photos. Cost for the set is $37. Contact the bookstore to purchase (bookstore@southwesterncc.edu or 828.339.4222).
If you wish to participate in a future traditional ceremony in Myers Auditorium, please know that you will be welcomed back warmly for this.
If you have any additional questions, please send those to t_goode@southwesterncc.edu.