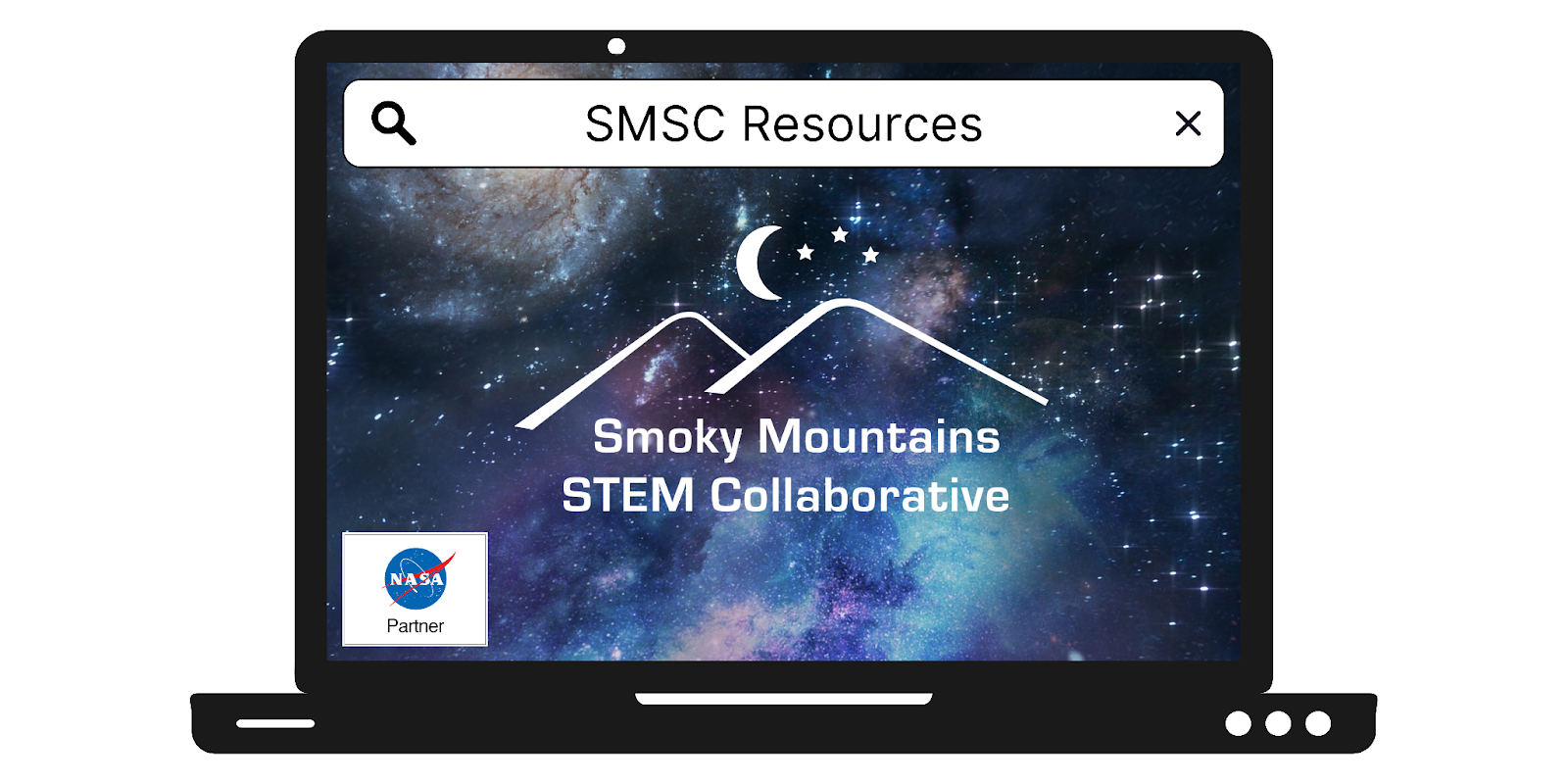 All of your favorite STEM resources in one convenient place!
Local Resources
"Citizen ToM - Transit of Mercury" by Matt Cass and Zack Stockbridge.
---
"Eureka - Poe's Cosmological Contributions" by Matt Cass.
---
Fontana Regional Library: NASA resources at your local Fontana library!
For planetarium shows and more: https://fontanalib.libguides.com/explore-space
---
Nantahala Regional Library: NASA resources at your local Nantahala library!
---
"She Blinded Me with Science! Famed Female Scientists through History" by Matt Cass.
---
Seeking Paths in Nature (SPiN): An effort by the Great Smoky Mountains National Park and Cherokee Central Schools to integrate Cherokee culture and history into curriculum lessons for middle schools. Subjects include genetics, hydrology, phenology and more!
---
Unveiling the Science: An SCC livestream event that revealed NASA's James Webb Space Telescope.
---
"What Living in Space Teaches Us About Human Health" by Randi Neff.
---
NASA Resources
Climate Science for the Classroom: A resource created by a partnership with NASA SMD and the University of Washington aimed at High School students that looks at Earth Science from the standpoint of climate change. In addition to ready-made dual-enrollment courses, there are free resources you can incorporate into your classroom.
---
GLOBE: A student and citizen science program for all ages focused on Earth Science.
---
MyNASAData: MND is a collection of resources including mini lessons, lesson plans, data visualizations and more!
---
NASA BEST Students: Beginning Engineering, Science and Technology (BEST) students is a collection of activity guides geared towards teaching the engineering process to a young (K-8) audience!
---
NASA Connects: A network dedicated to connecting formal and informal educators for collaborating in STEM!
---
NASA eClips: Short videos engaging students to think about science.
---
NASA Educators: A comprehensive website of resources for educators in formal and informal settings! 
---
NASA Eyes: Visualization products of Earth, the Solar System and exo-planets!
---
NASA Spinoff: A closer look at how NASA technologies impact your daily life through commercially available products. "There's more space in your life than you think!"
---
NASA STEM Gateway: A gateway for participating in STEM opportunities like professional development, internships, college STEM experiences and more!
---
NASA Wavelength: Formal and informal education resources which include data, activities, visualizations and more!
---
PBS Learning Media: Bringing the universe to America's classroom. Resources include videos, images, data visualizations, games and more.
---
Solar System Trek: Map and 3-D viewers of the Moon, Mars, Vesta and more!
---
Space Math: If you want to make something 100% cooler in an instant, put it in space! Putting the "M" in STEM, Space Math at NASA provides realistic and relevant problems appropriate for a wide range of ages!