Peter Buck - SCC Counselor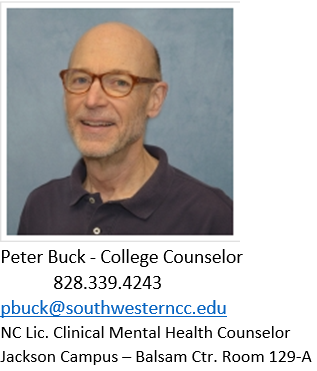 SCC's College Counselor, Peter Buck, is available to help students with a number of issues including:
stress,   test-taking issues,   anxiety,   procrastination,   motivation,   family issues,   gender identity,   relationships,   anger,   depression,   trauma,   aspects of ADD,   recovery support,   breaking habits,   sustainable high-performance,   thriving,   balancing it all school-family-work,   and other issues.
--  Counseling services are free – and can be done Face-to-Face, by Video Meeting, or by phone. 

--  Counseling is confidential - except in emergency situations where there is danger to oneself or others. 
--  Privacy... The Macon and Swain campuses have dedicated rooms & computers set up for counseling video meetings. 

-- If it is helpful and you request it, Peter will not only work with you, but also talk with your instructors so we can all work together to support your success at SCC.

--  Peter also helps students get services from counselors and agencies in the area… like REACH, DSS, Meridian or Appalachian,
and MYgroup.

--  If a student is already working with a doctor or counselor outside of SCC, we can help set up appropriate supplemental support at SCC... such as providing safe places and people to meet with if things get overwhelming – or providing coaching focused on your issues and how to do well at SCC. 
Regarding Counseling at SCC, Peter says: 

          "While focusing on whatever issue a student is wrestling with, I also aim to help lower stress and anxiety levels.  
          We all work better when we feel a little calmer and our minds are a bit clearer."

         "School can be challenging but there are ways to do it with more clarity, calmness, and enjoyment… and a lot less stress."

                                                               You can contact Peter Buck at 828.339.4243 or pbuck[at]southwesterncc[dot]edu