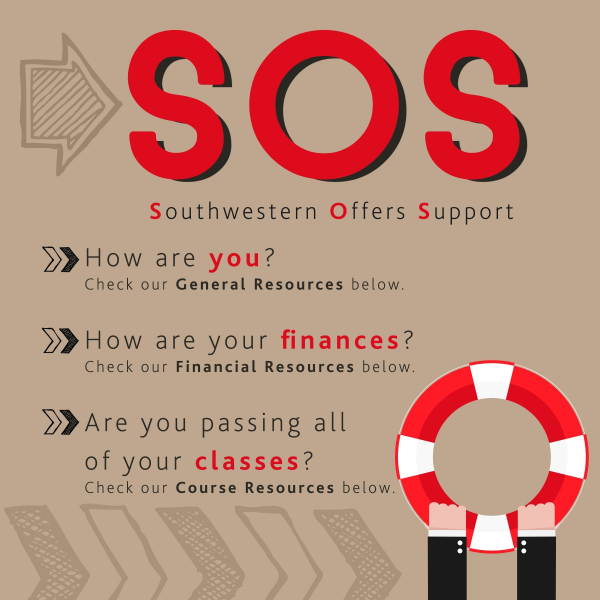 How are you doing? Don't struggle, let us support you! 
Please find the list below of the numerous resources SCC has for providing support in different areas. 
How are you?
General Resources

College Counselor  

Peter Buck is the Student Counselor and is available to help with stress management, time management and other problems. Call 828.339.4352 or email pbuck@southwesterncc.edu to make an appointment.
Fitness Center
The Fitness Center is located on the 2nd floor of Bradford Hall on the
Jackson Campus. It is equipped with free weights and cardio machines which are free to all SCC students. The Fitness Center is open 8 am - 5 pm Monday - Thursday and 8 am - noon on Friday for students.
Nature Trail
The nature trail offers the opportunity to enjoy nature and exercise at the same time! More info can be found by clicking here, and a trail map is located in front of the Balsam Center and trail markers are posted around campus. 
How are your finances?
Financial Resources

Campus Cupboard

 

The Campus Cupboard food pantry is located in the Balsam Center on the 1st floor. Food is available anonymously to students to help provide nutrition.

Emergency Fund
SCC's Student Emergency Fund is available to help students get through situations that are unexpected. This program is ideal when you have small, time-sensitive financial needs such as fuel for your vehicle. To apply for assistance, contact Kathy Posey of the SCC Foundation:
 k_posey@southwesterncc.edu or 828.339.4227.
Finish Line Grant

The Finish Line grant is available to students enrolled in health sciences or career technologies programs who have completed at least 50% of their program with a 2.0 GPA. To request funds, follow the steps identified 

here

, and contact the SCC Financial Aid office at 828-339-4438 to take the next steps.

Community Table
The Community Table offers free meals on Monday, Tuesday, Thursday and Friday from 4 - 6 pm. It is located in downtown Sylva on Central Drive next to the Sylva pool.
SCC Scholarships

SCC awarded 142 scholarships valued at $174,000 in 2020. The 

application

 for scholarships opens in the spring semester each year.
Are you passing all of your classes?
Course Resources
Free Tutoring

SCC offers free 

face-to-face

 and 

online tutoring

to enrolled students. Contact Julie Bennett at 828.339.4304 for additional information or to request a tutor.

Learning Assistance Centers (LAC)
Learning Assistance Centers are located on the Jackson and Macon Campuses. On the Jackson Campus, the Learning Assistance Center is located in Oaks Hall, Room 101. The Macon LAC is located in the Groves Center Room 230. Free, drop-in assistance is provided by Learning Consultants who offer a variety of specialties. A Writing Consultant is on duty at all times during operating hours, and a Mathematics and/or Sciences Consultant is on duty during most of those hours. Learning Consultants also help to strengthen basic skills, such as test preparation, computer/Internet use, reading, and research. Contact Toni Knott at 828.339.4325 or tknott@southwesterncc.edu for the Jackson LAC or Joan Willis at 828.306.7001 or j_willis@southwesterncc.edu for the Macon LAC.
Student Support Services (SSS)
Student Support Services offers to eligible students academic and financial support, cultural and volunteer enrichment activities, as well as outdoor adventures. Contact SSS at 828.339.4420 or sss@southwesterncc.edu

.  

Holt Library
The library offers an ideal setting for finding a quiet space to study.
A printer, computers, study rooms and very helpful staff are available.

The library is open Monday-Thursday (8 am - 6 pm) and Friday (8 am – 3 pm). Call 828.339.4288 or email

 library@southwesterncc.edu

for more information

ThinkingStorm Online Tutoring

ThinkingStorm (TS) provides 240 minutes of free online assistance for each SCC student during fall and spring semesters and the summer session. SCC students must access and use TS's online-tutoring services by clicking on the "Tutoring" button in any SCC Moodle course. (Note: Using TS in any other way might result in charges for a student.)