Note: If you have bookmarked this page, please remember to refresh for the latest information.
Be sure and sign up to receive the latest weather-related announcements delivered to your mobile phone as soon as a decision is made about closing or delaying class schedules at SCC.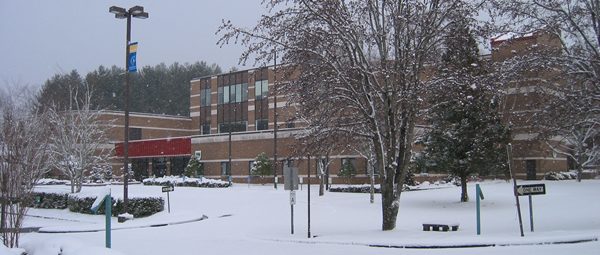 Policy 5.02.05 and Procedure 5.02.05.01 - Delay/Cancellation of Classes Due to Adverse Weather  will be observed for adverse/inclement weather; however, regardless of college announcements, commuters should exercise personal judgment concerning highway road conditions, particularly those from other counties or remote areas. If the college is open, no announcement will be made.
Announcements concerning college operation will be made by 6:30 a.m. on the local TV and radio stations listed below. However, if weather conditions worsen after the 6:30 a.m. announcement, an additional announcement closing the college for the day will be made no later than 8:30 a.m. Announcements concerning evening classes will be made no later than 3:00 p.m. The following types of announcements may be made:
Delayed Start: If the college is a delayed start, the campus will open at 10:00 a.m. Students should report to the class/lab/clinic they would be in at 10:00 a.m. on a regular day. All instructional time missed in a delayed start will be made up.
College Closed: This means there are extremely hazardous conditions and no one should report to work or class.
Early Dismissal: Early Dismissal will be announced when weather conditions dictate the early dismissal of day or evening classes. This type of announcement will be made by telephone to a designee in each building on campus, who will communicate the early dismissal information to the occupants of the building.
Radio:
(99.9-FM) WKSF, Asheville
(95.3-FM) WCQS, Asheville
(1590-AM) WBHN, Bryson City
(1370-AM) WGHC, Clayton, Ga.
(104.1-FM) WQXI, Clayton, Ga.
(1050-AM) WFSC, Franklin
(96.7-FM) WNCC, Franklin
(1480-AM) WPFJ, Franklin
(104.5-FM) WHLC, Highlands
(1320 AM) WKRK, Murphy
(95.9-FM) WCVP, Robbinsville
(540-AM) WRGC, Sylva
(104.9-FM) WQNS, Waynesville
Television:
(ABC) – WLOS, Asheville, NC 
(CBS) – WSPA, Spartanburg, SC
(NBC) – WYFF, Greenville, SC 
Online and Social Media Resources:
Website:  www.southwesterncc.edu
Twitter:  twitter.com/southwesterncc
​Facebook: www.facebook.com/sccnc1