At SCC, Career Exploration and decision making is a process that takes reflection, research, actions, and resources.

Behind the curtain of SCC's PEAK decision-making process, the CASVE Cycle is a career decision-making model that focuses on action-oriented steps to help you narrow down your options, and make a career decision.

You can make an appointment with a Career Counselor to discuss your major and career options. We can help you understand your interests, skills, and values that may lead to an informed choice of major and an ideal career. A Career Counselor can help you determine the next steps that are best for you.

Contact Us to schedule an appointment.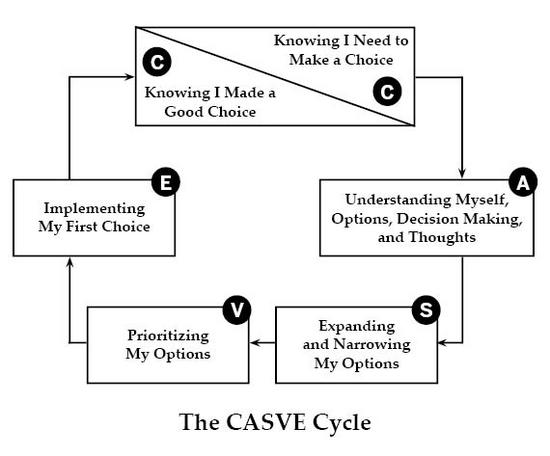 Tools for your Career Exploration Journey:
The process of choosing a major or career often begins with assessment. Students should first take the Career Coach 60 questions Assessment, and schedule an appointment to discuss your results with a career counselor.

Complete the PEAK Values Inventory to gain insight into what is important to you with your work and life values, and use it as a tool to help you narrow down different careers you researched using Career Coach. You can find the PEAK Values Inventory Worksheet and other tools on our Career and Self-Assessment Tools page.

After narrowing down your options, consider conducting an Informational Interview with someone in your potential career field, doing more research about your chosen career using O*Net and YouTube, pursuing a job shadowing, internship, or Work-Based Learning experience, or meeting with a career counselor to learn about other options.
Virtually meet us!