RESOURCES FOR FACULTY, STAFF & ADVISORS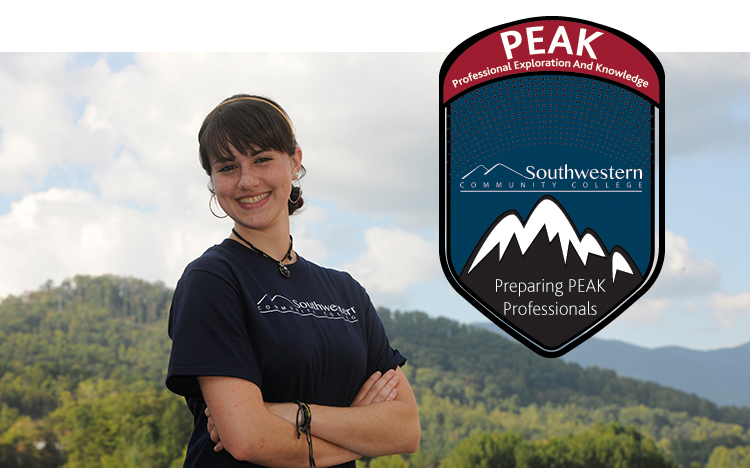 PEAK, which stands for "Professional Exploration and Knowledge," aims to help students succeed in their jobs and careers. It begins in ACA but continues through their SCC education and in your classrooms. The following programs, services, and activities offered by Career Services will help faculty and advisors further guide students based on their assessed interests, identification of values and abilities, understanding of academic pathways, exploration of careers, development and practice of related skills, and level of self efficacy when applying for jobs.
Career Coach
All students will use Career Coach to explore interests, related career options, correlating programs at SCC, and actual jobs in the region and beyond. By taking the longer assessment, they can discover and learn about their own, personal Holland Codes and meet with SCC's Career Counselor in your classroom or individually to discuss how that might inform their vocational choice. 
Faculty are encouraged to register for Career Coach, take the assessment, and see examples of vocations related to their own programs of study.
Students can also complete the PEAK Values Inventory to gain insight into what is important to them with their work and life values, and use it as a tool to help them narrow down different careers they researched using Career Coach. You can find the PEAK Values Inventory Worksheet and other tools on our Career and Self-Assessment Tools page.
Job Fairs, Career Seminars, Programs, and Events
Class Presentations
Career Services provides a wide range of synchronous and asynchronous
classroom presentations
on a wide range of topics including (sometimes combining) but not limited to:
Resume Preparation
 and Job Search Assistance
Students should capture their leadership, related service-learning, undergraduate research, work-based learning, clinical experience, and other career development achievements on a professional resume. We can present this topic in any class, and students can get individual help with their resumes at the Career Services through in-person or virtual meetings.
Here is a PEAK-themed, "Climbers Pack" or toolkit designed to help faculty integrate Resume Writing into their classes. Career Services can tailor or integrate an additional learning objectives you desire and help you guarantee this exercise will be a meaningful class assignment: "Climber's Pack": Resume Writing
Big Interview
Big Interview
is an exciting online tool that whole classes can use to practice and develop job interviewing skills. Students in your class can practice interviews and record and save them, and electronically share them with you or a career counselor. They can look up specific interview questions, and they can even formulate their "Interview Story."
Big Interview also has an "Assignments" feature that you can utilize when assigning interview practice in your classes.
This video explains the assignment feature in Big Interview.
Other Interview Resources & Tutorials
Job Fairs and Hiring Events
Students can meet real employers and learn about jobs in hospitality and tourism, business, healthcare, career technologies, human services, government, education, and many other areas.  Career Fairs offer opportunities to not only apply for jobs but also explore career options, network, find internships, and practice making a positive, professional first impression.
Job Board
Students, alumni, faculty, staff, community members, and employers can self-register and access our
SCC Job Board
to search for local and regional jobs, post opportunities, register for career fairs, and more! Search regularly for new positions, as they get added all the time and download the
SCC Job Board Phone App
. Contact Career Services for assistance in your search or posting a job. If you have problems logging into your account, contact
Michael Despeaux
.
SCC Trades and Skilled Labor Employers and Resources:
Read about careers in trades and access information about regional employers who hire SCC graduates. 
Meeting with Career Services Online
At Southwestern Community College, we like to say that we will "meet students where they are at" not only in their professional journeys but also with meeting with us one-on-one. Using technology, it is possible to fully achieve any task or goal, including
career counseling and assessment
,
exploring majors
,
resume writing
, how to use the
SCC Job Board
or
Big Interview
, setting up a
LinkedIn account
, and more!  
We will schedule an online appointment with your students through "Google Meet" through which we can share video and audio and even our screen to discuss any topic and achieve the goals of the appointment.   
All students need is a computer or device with a webcam and microphone, an internet connection, and a quiet place.  As an alternative, a Meet invitation will provide directions on how to call in using a telephone.   
Here are directions on how to Meet virtually with a career counselor: 
Directions to Join a Google Meeting